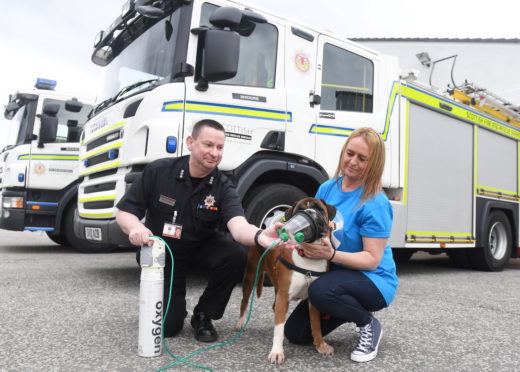 All fire stations across Tayside are to be given specialist oxygen masks designed to save the lives of family pets.
The masks, which can fit any animal, will allow crews to assist pets in need of care.
The campaign to donate the respiratory equipment was launched by UK-wide not-for-profit initiative Smokey Paws.
The organisation teamed up with the Scottish Fire and Rescue Service (SFRS) as well as numerous businesses and individuals across the country.
Peterhead-based national charity Boxer Welfare Scotland also recently joined the effort and in the past few weeks has donated kits to stations across the north-east of Scotland.
Tayside's 24 stations will soon be able to respond to emergencies while carrying the kits, which are imported from the USA.
Gordon Pryde, the area's Local Senior Officer, said: "Following a recent delivery and ongoing training, all stations in Perth and Kinross, Angus and Dundee will have specially designed oxygen masks at each of our stations.
"This enables the SFRS to offer lifesaving support to pets that have been involved in house fires.
"This equipment has been purchased for the SFRS though charitable donations and I would like to thank all those involved in fundraising."
As well as pets, the equipment can be used on other animals such as livestock, in the event of a fire in a field, farm or barn.
Historically, firefighters would have to use masks designed for humans, which can prove difficult.
It is hoped, eventually, every fire crew in Scotland will have use of the £90 kits, each of which includes three oxygen masks of different sizes.
Lorraine Cumming, of Boxer Welfare Scotland, said the charity will not give up until it helps Smokey Paws deliver at least two kits for each station.
She said: "What we want now is for every crew to have a kit at their disposal. That's our mission.
"One for each station wouldn't be enough if there is a big fire or more than one fire at the same time.
"I would feel so much better going to sleep at night knowing that every fire engine in Scotland carries one of these kits.
"Of course the priority for the crews during a fire will always be people but animals are such a big part of people's lives — they are like family.
"As you can imagine, some people would just refuse to leave their home if a pet was still inside."
She added: "We're helping because we are a registered charity so we receive relief on donations."
So far, more than 200 stations across Scotland have welcomed donations of the equipment.
To donate via the charity or to find out more, visit boxerwelfarescotland.org.uk or to donate direct, visit smokeypaws.co.uk