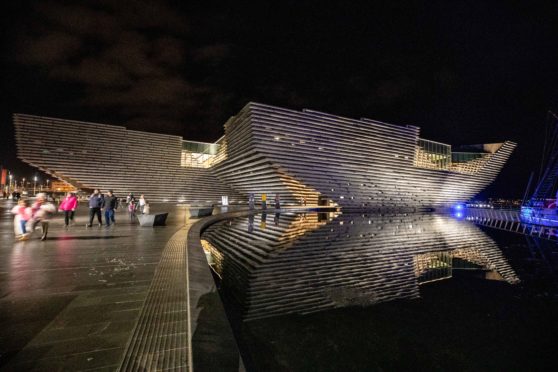 Dundee's £80 million V&A museum has "surpassed all expectations" after recording its 500,000th visitor on Saturday — almost six months earlier than expected.
Bosses at the museum had anticipated it would take around a year to reach the half a million mark but an "extraordinary opening period" last left them stunned.
Of the visitors, 45,000 were foreign and 85,000 were from other UK countries outside Scotland.
The remaining visitors were split evenly between Tayside and Fife (36 per cent) and elsewhere in Scotland (36 per cent).
The very first exhibition, Ocean Liners: Speed and Style, has been visited by almost 100,000 people, amounting to roughly 20% of visitors.
Director of the museum, Philip Long, said: "It has been an extraordinary opening period for V&A Dundee and the support from visitors has surpassed all expectations.
"V&A Dundee is flourishing as a hub of creativity and learning and it's wonderful to see so many people enjoying it, with many returning time and time again.
"This is just the beginning for V&A Dundee, and the dedicated team behind the museum will continue with our mission to enhance lives through design and to inspire as many people as possible to get involved."
The museum's opening two-day celebration, the 3D Festival held in Slessor Gardens and headlined by Primal Scream, was attended by 22,600 people.
To date 375,000 visitors have explored the building's Scottish Design Galleries, which tell Scotland's international design story.
And the museum is proving popular with Dundonians too, with 80,000 locals checking out the attraction.
Cabinet Secretary for Culture, Tourism and External Affairs Fiona Hyslop said: "V&A Dundee is a powerful symbol of Dundee's new confidence and is not only raising the national and international profile of the city but is increasing Scotland's attractiveness to tourists looking for world class cultural experiences."
It comes shortly after it was revealed visitor numbers at its neighbouring attraction Discovery Point were up by 42% in 2018 compared to 2017.
Arbroath Abbey saw a rise of 18%, while figures for the National Trust for Scotland's House of Dun, Barry Mill and J.M. Barrie's Birthplace rose by 29%, 14% and 4% respectively.
Dundee's jute museum, Verdant Works, also posted an increase in visitors from 16,477 to 19,993 over the same period.
Dundee City Council leader Councillor John Alexander said he "cannot wait" to see what the museum can achieve.
"This is an incredible achievement for V&A Dundee in such a short time," he said.
"We can see from the increased visitor numbers at other Dundee attractions that the city is certainly feeling the benefits of the opening of this superb new museum of design."