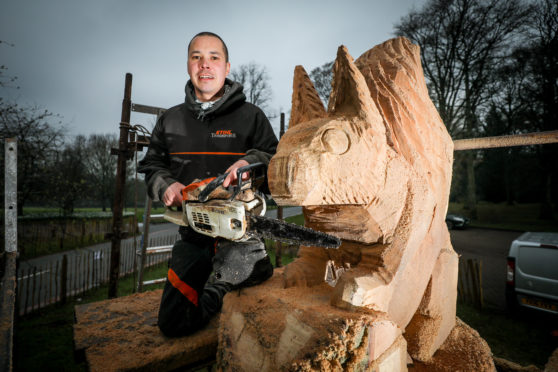 A storm-damaged oak tree in Dundee's Camperdown Park has been given a new lease of life — as a sculpture to celebrate the centre's wildlife.
The carving is the work of acclaimed chainsaw artist Tom Harris-Ward, who unveiled his mighty masterpiece on Saturday.
The oak was badly damaged in February when Storm Erik battered the park, as winds of up to 60mph swept across the region.
Due to its prominent location near Camperdown's entrance, the tree had to be chopped down to make it safe.
However, rather than removing it, council bosses decided to see if the tree could be salvaged by being turned into a work of art.
Camperdown commissioned Mr Harris-Ward, a runner up in the 2018 Scottish Open Chainsaw Carving Competition at Carve Carrbridge, to create the sculpture.
The artwork features squirrels, roe deer and buzzards, all of which can be found across the park.
Mr Harris-Ward, who is based in Arbroath, will also be demonstrating his skills at this year's Dundee Flower and Food Festival to an audience of both children and adults.
Dundee City Council's convener of neighbourhood services, SNP councillor Kevin Cordell said: "This stunning piece of art enhances the environment and is a welcome addition to Camperdown.
"It's great that Tom will be coming back to Dundee for the 2019 Flower and Food Festival, taking up a spot in the Woodlands 4 Yew and Children's Marquee.
"I'm sure he will show off the brilliant ways to promote how woods are managed in Dundee and showcase the benefits of natural areas and rural skills to the next generation.
"This art installation is a great way to showcase the skills that will be demonstrated at the Flower and Food Festival and leave a lasting legacy for the park."
Camperdown Wildlife Centre is home to a number of animals in captivity, such as lemurs, marmosets, European brown bears, wolves and golden eagles, as well as the native wildlife.
Tom said: "I'm excited to be developing a working relationship with Dundee Council.
"To be able to re-purpose wood harvested during essential tree maintenance work and use it to help draw people into the city's parks is very rewarding."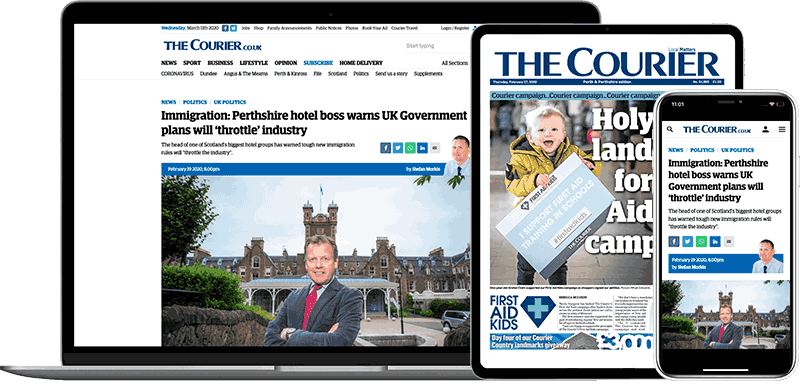 Help support quality local journalism … become a digital subscriber to The Courier
For as little as £5.99 a month you can access all of our content, including Premium articles.
Subscribe