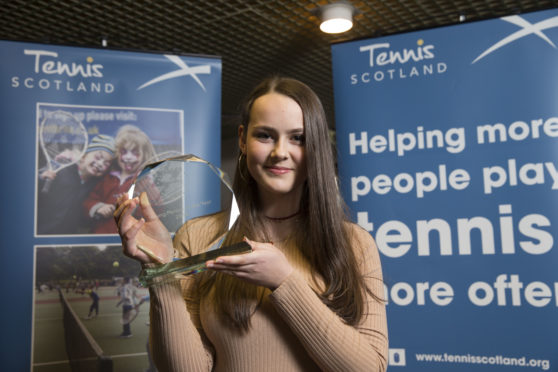 Talented tennis players from across Tayside and Fife have served up a winning performance to scoop three national awards.
Tennis Scotland, the national governing body for the sport in Scotland, presented trophies at its award night at Gleneagles.
A trio from Tayside clinched some of the top trophies at the presentation.
Teenager Alix Christie, 17, was named the Young Person of the Year, despite only taking up the sport three years ago.
She has already made her mark in the tennis world, winning the Junior Club Championships last year.
The youngster plays for Forthill Community Tennis Club and hopes to become a level one coach by the end of the year.
The Grove Academy pupil said: "Tennis is a great way to stay active not only physically but mentally as well.
"You can constantly challenge yourself to be a better player as you pick up new things from every opponent that you play.
"I always say that you shouldn't worry about winning as losing will only make you stronger as you learn from past mistakes."
The Coach of the Year title went to Alan Russell, 64, who helps teach the sport at Dunfermline Tennis Club.
As head coach at the Fife club, Alan manages its tennis programme.
In 2018 he enjoyed seeing the club's juniors win five Team Tennis leagues and the club programme reach almost 3,200 players.
He is also the referee of the North Angus and Grantown-on-Spey tournaments and aims to establish two community tennis programmes in West Fife this year.
He said: " It's a real honour.
"The best thing about tennis is that it's a sport for everyone.
"I'd say to any young player in the sport to hold on to your love of tennis and be patient – nobody ever gives up tennis because it's too easy."
Fairfield Community Sports Hub, on  Drumgeith Road, in Dundee, was presented with The Community Award.
The sports hub has become a key part of the local community and last year it hosted a cluster event with 20 of its youngsters which saw an increase in members.
John Cairney, Sports Hub projects officer, said: "We are all delighted to have been awarded Tennis Scotland's Community Award for 2018.
"This year, we hope to continue growing our membership and expand our adult sessions to make this a more consistent part of our core programme."
The awards recognise the achievements of individuals, clubs, teams, tournaments and programmes across Scotland with more than 70 finalists short-listed across 70 categories.
Blane Dodds, Tennis Scotland chief executive, said: "I'd like to congratulate Alan, Alix and Fairfield Community Sports Hub for their well-earned achievement."