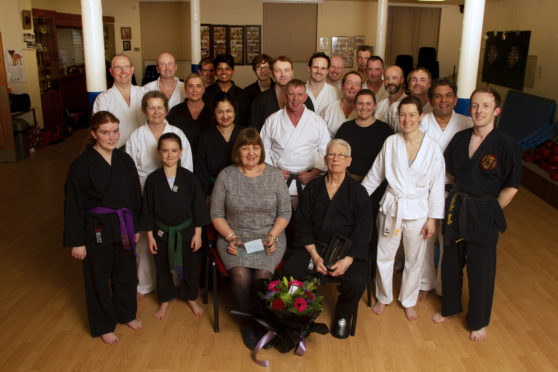 A karate black belt who still teaches at a martial arts school he set up 50 years ago was given a special gift to mark his anniversary.
Jim Fraser, 74, of Invergowrie, first became interested in karate as a 19 year old in 1964 and he quickly became a black belt.
While job hunting he decided to make a career out of his hobby and set up the Ancrum Karate School in Dundee on April 8 1969.
He has trained thousands of people over the years and despite his age he still teaches three classes per week at the martial arts school.
Several members of the school decided to mark the 50th anniversary last week.
They surprised Mr Fraser at the club to present him with glassware engraved with the venture's logo.
Mr Fraser said: "Karate only really came to Britain in the 1950s and people thought it was quite unusual and it was unknown at the time.
"I was looking for a part-time job and I thought I could teach karate.
"I still teach on Monday and Thursday evenings and Saturday mornings despite my age. "I don't play golf or read books and karate has been my life.
"I must have trained thousands of people over the years and I just enjoy it. I can't go anywhere without meeting people who were trained at the school.
"I think people need my help to reach a black belt and I want to help them.
"I didn't expect the presentation and I was completely taken by surprise."
Karate proved to be a Fraser family affair as his son and daughter James and Abby both took up the sport, while as Mr Fraser's wife, Dorothy, does administration work for the club.
The school caters for students under five up to adults and in the 1981 it became the first full-time karate club in Dundee.
Mr Fraser was also the first person to arrange for visits from both Keinosuke Enoeda, of Japan, and Bill Wallace, of America, who both gave demonstrations to the school's students.
Black belt Alex Sloan, who attends the club with his daughter Eilidh Sloane and partner Donna Walker, said: "It's quite an achievement to reach 50 years in the business.
"Not many people could teach at the level he does. I think he loves it.
"I have been at the school for 35 years and I met my wife there. It is more like a family then a karate club.
"At some clubs you never get to know the other members but it is different at Ancrum. "It's a fantastic school."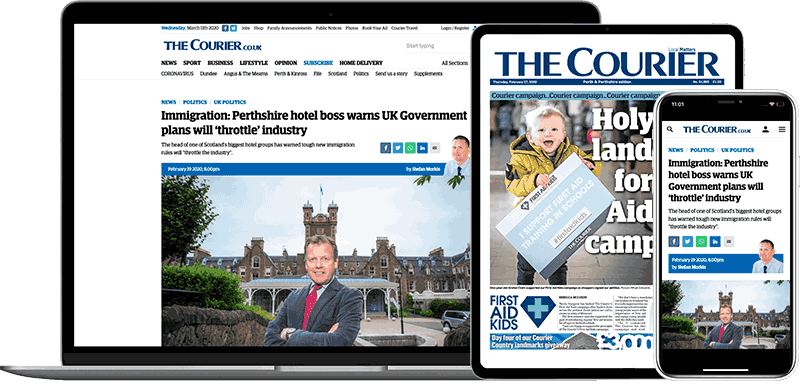 Help support quality local journalism … become a digital subscriber to The Courier
For as little as £5.99 a month you can access all of our content, including Premium articles.
Subscribe