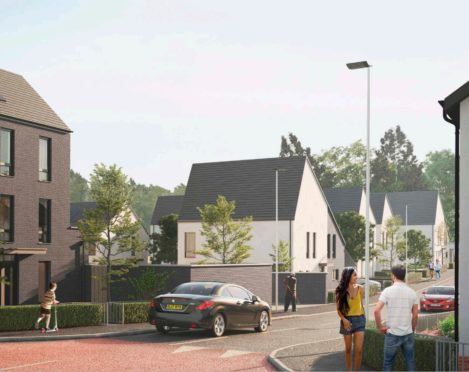 Councillors in Dundee will be asked to approve plans for 45 new homes in the Mill O' Mains area of Dundee on Monday.
Officers have recommended the planning committee approves the social housing development, consisting of for 17 houses and 28 flats, when it meets next week.
The Home Group development will include a mix of detached, semi-detached and terraced houses.
The flats will be cottage-style with wheelchair access on the ground floor and apartments above.
Although the application is not in accordance with the Local Development Plan, officers believe there are enough material considerations to justify approval.
In their report to councillors they state: "It is considered in this instance that the proposals would be a positive redevelopment for the area and would address specific local housing needs.
"The provision of good quality social housing which is of a size and form that meets the needs of the local area, while not fully meeting adopted Dundee Local Development Plan standards, is considered to be acceptable and would be of sufficient weight to justify a departure in this instance."
If approved, the development will be the fourth development of new homes in Mill o' Mains in recent years.
A design statement from architects JTP said: "Mill o' Mains, phase four, is located along a strip of land sandwiched between Forfar Road (A90) dual carriageway and Hebrides Drive, which forms a defined perimeter around the bulk of the estate.
"It is split into two distinct sites, A and B, by an existing petrol station compound and the ramped springing point of the pedestrian bridge link to the nearby Fintry estate. Both sites were previously developed for housing.
"Demolition of all three-storey apartment blocks took place in 2017 and the sites are now vacant and covered with grass."