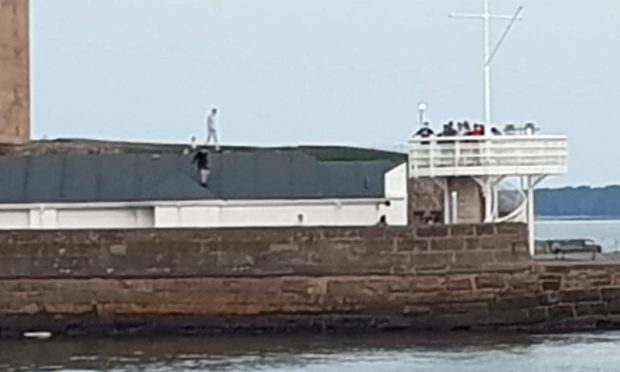 Tayside's Coastguard boss has warned lives are being put at risk after youths damaged vital safety equipment at Broughty Ferry harbour.
Police attended to deal with the teenagers who broke a barge pole, ripped life rings from their holders and threw them into the water.
They were also spotted jumping into the water and climbing on the roof of the Ye Amphibious Ancients Bathing Association last week.
Tayside HM Coastguard commander Ross Greenhill said: "Safety equipment, whether it be life rings or poles is put there for a reason.
"By damaging this vital kit and making it potentially unusable, it puts lives at risk. It could even put at risk the lives of the very people who did this.
"We'd strongly advise anyone seeing this kind of vandalism to report it to the police immediately."
A Police Scotland spokesperson added: "Police attended and the youths were spoken to about their behaviour".
Eyewitnesses said they had seen as many as 30 young people congregated in the area, adding they continued with the anti-social behaviour when the police left the scene.
Coastwatch Tay Coastal Safety and Surveillance put out a statement on their page, saying: "We received a call reporting a large number of youths throwing life rings and poles into the harbour at Broughty Ferry.
"Two Coastwatch Tay volunteers attended and spent an hour and a half recovered (sic) four rings and five poles from the river and placed them back in their cradles at the harbour.
"Police arrived to chat with youths who were clambering on the roof of the Phibbies shed."
Local shopkeepers said due to the school holidays, there was an increase in youngsters causing trouble in the area last week.
Muhammed Zeesham, of Seven Days News on Brook Street, said: "Some of the plants along the street were ripped out from the pots and some equipment was damaged.
"Customers said it was because of the school holidays that kids were causing trouble."
Broughty Ferry councillor Craig Duncan said he was pushing for more CCTV to be installed in the area ahead of the busy summer season.
He added: "During the recent good weather and the school holidays there there were a lot of youths down at the harbour.
"Most of it was fun and games but unfortunately a minority have taken it too far by damaging the safety equipment.
"I'm going to see about having more CCTV cameras and police patrols for the area."