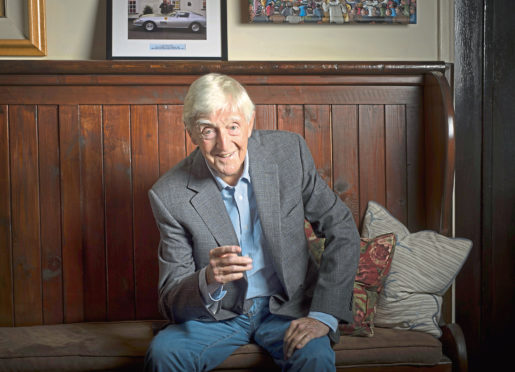 Sir Michael Parkinson has been casting his mind back to locking horns with a goat in a university rectorship contest in Dundee, despite never having visited the city.
As he prepares to make his first trip to the City of Discovery in June, the TV personality recalled being nominated to be rector of Dundee University in 1971.
The 84-year-old was pitted against Peter Ustinov and a goat named Mervina, who clocked up 38 votes in the final poll. Sir Parkinson lost out to actor and director Ustinov by just six votes.
Sir Parkinson also has connections to Dundee jazz singer Alison Burns, who tours with her father-in-law, renowned acoustic guitar player Martin Taylor, and has performed at Parky's own restaurant.
He said: "I know Alison very well and her guitar player, Martin Taylor, what a player he is.
"He's just one of the world's great players, not just in Scotland or Britain.
"I really enjoyed working with her."
The octogenarian will sit down with his son Mike at Dundee's Whitehall Theatre on June 1 and is looking forward to performing in the intimate venue.
"We've done the bigger venues from time to time and it's good to do some of the smaller ones," he said.
"You get a very good reaction because I think sometimes people in these places feel a bit neglected.
"I love theatres, there are some very pleasant theatres, some very historic ones and some very new ones as well."
And not even one of Britain's greatest conversationalists could escape the topic of Brexit, calling on the UK Government to respect the result of the 2016 referendum. "We're deeply in the mire, aren't we?" he said.
"I just can't imagine why a parliament of 600 people can't come to the same conclusions about what has already been decided by the public. It's very simple. The vote was the vote.
"The message was clear, they're voters, we had a referendum. It doesn't matter that you hate the result of the referendum, we're a democracy pal."
On the subject of his own career, he admitted he believes he will not host another TV talk show. "I would say talk shows are finished with me," he said.
"There was no internet (at the time), no information bureau where you could go to find out everything about them. There's not a person in the world today who could go on a talk show and the audience don't know a thing about them. That's the difference.
"I've been very lucky because I did television, radio, newspapers, I am quite proud of having done all of these. Of the three, television is the most exciting.
"I've no regrets, I've had a very full career, when you think about it. I've been a journalist, I've done the rounds, there's not much I haven't done in terms of my profession and I'm very happy to leave it at that."