Cylons in kilts, superheroes, bounty hunters and the undead all flocked to Dundee on Saturday for DeeCon 2019.
Thousands of people attended the annual event at Dundee University, which is organised as a fundraiser for animation students' degree show.
The event, celebrating its 10th anniversary in 2019, was held across three buildings and included a range of activities from retro gaming, art stalls and a cosplay masquerade.
There were also video game competitions and talks from artists and comic book creators.
Fans came from far and wide to take part in Saturday's fun.
@deecon2019! Incredible to think this huge, amazing event is organised and run by DJCAD Level 3 Animation Students. Well done on another hugely successful con! ????? pic.twitter.com/uAjnai3vTJ

— DJCAD Animation (@DJCADanimation) April 20, 2019
Brechin father and son Colin, 40, and Hayden Yu, 8, were both dressed as Mandalorian bounty hunters from the Star Wars universe.
Colin said: "I grew up with Star Wars but wasn't a great fan until the Clone Wars came out, which was a cartoon but was excellent."
Colin said he spent around two month making the matching suits of armour he and Hayden were wearing.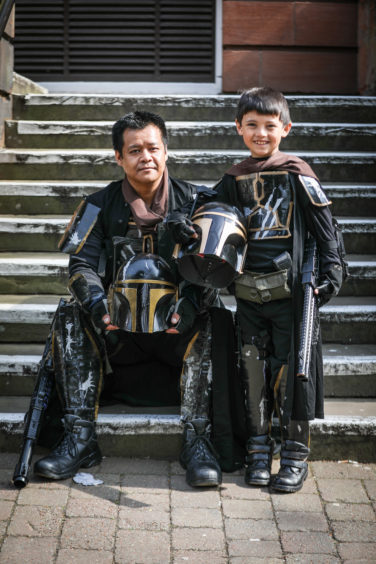 Forty-five-year-old Dan Gillespie from Aberdeen also arrived at DeeCon dressed to kill.
Glorious sunshine, Food, and SWORD FIGHTING! DeeCon 2019 is proving to be THE biggest DeeCon to date! Tickets still available at DUSA main reception and on Eventbritehttps://www.eventbrite.co.uk/e/deecon-2019-tickets-52189291576?aff=efbeventtix #deecon2019 pic.twitter.com/3ZWVfSNs3X

— DeeCon 2019 (@deecon2019) April 20, 2019
He was wearing a Cylon suit of armour from Battlestar Galactica, coupled with a kilt.
Dan said he paid around $1,000 for the armour as well as £150 in import fees.
He added: "I normally do a Scottish storm-trooper so this is a bit of a change."
Jade McCarroll, from Blantyre, dressed up as a Mollymauk Tealeaf from the internet phenomenon Critical Role, which sees voice actors play Dungeons and Dragons.
The 26-year-old said: "I made the costume myself. I started in December and only finished yesterday."
Another Glaswegian wearing a spectacular home-made costume was Dorian H, who dressed as Alucard from the Castlevania series of video games and cartoons.
Dorian, 21, said: "This is my fifth or sixth time at DeeCon.
"It took me about six months to make the costume and about two hours to put on my make-up this morning."
Abertay University student Marcus McGinn, 18, attended his first DeeCon dressed as Wolverine from the X-Men.
He said: "I'm just here to see what's happening. As a costume it's quite easy."
Also at this year's event was 10-year-old Blackness Primary School pupil Drew Marr who was selling copies of his own comic The Rehabilitation of Doctor Eye.
His mum Kelly said: "DeeCon is different from other events because it's not commercial. It's raising money for the students and there is a real camaraderie."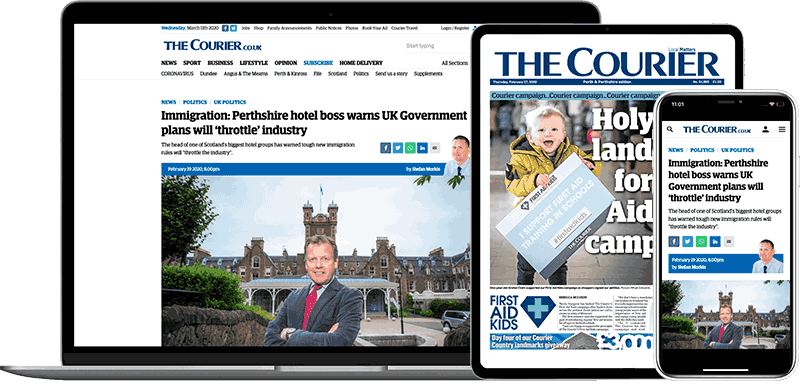 Help support quality local journalism … become a digital subscriber to The Courier
For as little as £5.99 a month you can access all of our content, including Premium articles.
Subscribe