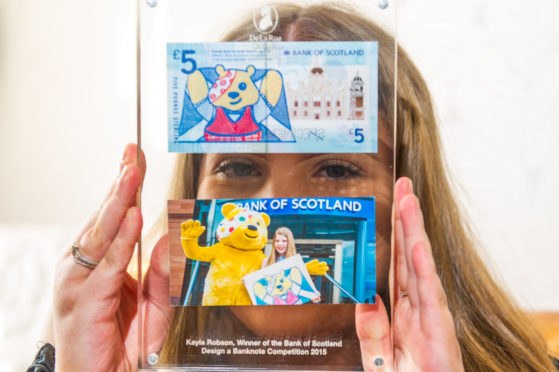 The artistic efforts of a 12-year-old Dundee schoolgirl now top the list of most wanted additions to Dundee's museum collections.
Kayla Robson, who is now 16, won a competition to design a special Bank of Scotland £5 note for the charity Children in Need in 2015.
Her design, which showed mascot Pudsey the Bear raising a Saltire, was printed on just 50 bank-notes, the first polymer notes ever produced by the bank.
On the reverse is a portrait of Sir Walter Scott and the Bank of Scotland's head office on The Mound in Edinburgh.
The notes were auctioned off to collectors, raising tens of thousands of pounds for Children in Need.
Their rarity means collectors will still hand over vast sums for the notes when they come up for auction, with one currently on offer on eBay for £27,999 – 5,600 times the note's face value.
And its rarity means that one of the notes is now being sought by Leisure and Culture Dundee for its museum collections.
In a report to go before Dundee City Council's Policy and Resources Committee tonight,  on Leisure and Culture Dundee's future collections policy, director Stewart Murdoch states the Pudsey note would be a welcome addition to the city's collection.
Mr Murdoch wrote: "Active collecting will take place to add numismatic objects to the collection that provide context for the human history of Dundee, especially in a local context.
"Examples of Dundee banknotes will be actively collected. In 2016 a Dundee schoolgirl designed a £5 note for the Bank of Scotland featuring Pudsey for Children in Need.
"Fifty were produced – if the opportunity ever arises every effort should be made to collect this."
Kayla's father Kenny said no-one had appreciated how sought after the bank-notes would be when she won the competition.
Kenny, 48, said: "The guy from the bank said to me 'do you know how big a deal this is?'
"Collectors go mad for certain numbers and with it being the first plastic note, for Children in Need and with only 50 of them it's very rare."
Mum Emma, 40, said the family would be willing to lend Kayla's banknote out for display in a museum.
She said: "It would be good to let people see it, as the only people who have is our family."
Morgan Academy pupil Kayla is now in her fifth year of school, where a framed picture of her wit the banknote is still on display in the foyer.
But despite her artistic talents creating work now worth thousands of pounds, she is still deciding what she wants to do with her future.
She said: "I'm still studying art but I'm not 100% sure what it is I want to do."