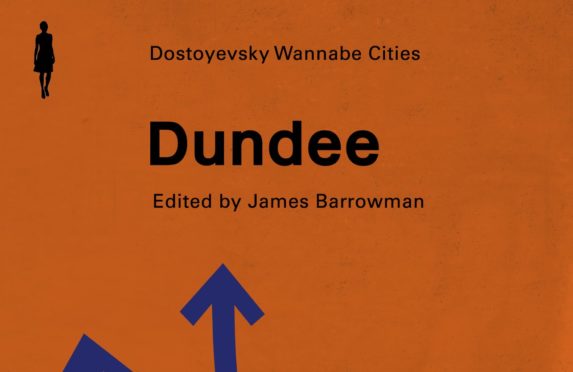 A new anthology of Dundee writing will be launched this week by an independent publisher.
Featuring works exclusively by Dundee-based wordsmiths, the paperback, edited by local man James Barrowman, will be launched on Thursday at Perth Road's Underworld Cafe.
It is being published by experimental independent press body Dostoyevsky Wannabe, based in Manchester.
It's part of the publisher's Dostoyevsky Wannabe Cities series which features anthologies of writers from dozens of urban hubs across the world.
The company specialises in making publications accessible to writers by offering just minor variations of its cover as a cost-saving measure.
16 contributions ranging from poems to short stories are included in the 178-page book.
The introduction is a piece by James Barrowman — a ramble from the train station up to the Hilltown, incorporating a visionary nightmare that conjures up a Dante's Inferno-on-Tay.
Poet Paul Malgrati's sonnet paints an image of the 17th century Siege of Dundee as contemporary farce.
Mr Malgrati said of the launch: "It's a very exciting time for us all.
"This new miscellany shows that the writing scene in Dundee is alive and well, proud of Dundee's quirky traditions and ready to embrace the city's future, whilst unafraid to challenge the status quo.
"Glasgow and Dundee are the two Scottish cities of Dostoevsky Wannabe's series and it's great to see that our city can be part of this.
"It really connects our local scene with the wider world and I look forward to seeing what will come out of it."
Also featured is an essay by Erin Farley based on one of the city's most infamous ghost stories – The White Lady.
The heavily-researched work relates to the poor conditions of the jute mills.
Anna Stewart's short-story imagines a pair of London-based presenters who travel to Dundee to undertake a travelogue based within the Wellgate Centre – only to focus on entirely the wrong things.
Also included are works by Donald Henry, Miguel Alcázar, Matt Townsend, and Bill Herbert as well as many more.
The launch event will take place at 7pm featuring panel discussion, prose/poetry readings, and live music from the St Martiins.