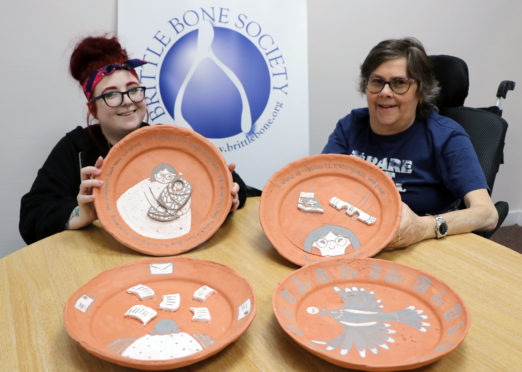 A "selfless" Dundee woman who founded a national charity has inspired a local art student's latest work.
Nicole McLaughlin was left in awe of the "incredible" achievements of Dundee University alumni Margaret Grant MBE, who founded the Brittle Bone Society in 1968.
Nicole, an illustration student at Duncan of Jordanstone College of Art & Design, designed four specially-produced clay plates and visited the headquarters in Dundee to hand them over.
Born in 1933 and diagnosed with Osteogenesis Imperfecta (OI) – the medical term for Brittle Bone Disease – Margaret established the Brittle Bone Society following the birth of her daughter, Yvonne, who inherited the condition.
With no support and very little medical knowledge of the affliction at that time, Margaret placed an advert in The Sunday Post looking for other affected people, the first step in forming the society that she hoped would provide Yvonne with the support network she had bravely coped without.
Having raised millions of pounds throughout its 51-year history, the society continues to assist those whose lives are touched by the illness.
Such has been the impact of Margaret's work that in 1989 she was honoured with an MBE, and in 2018 was awarded an Honorary Degree by Dundee University.
Nicole, 27, said she was "blown away" after hearing Margaret's story.
She said: "I think mums are the most amazing people anyway, but to learn about Margaret and what she has achieved to help her daughter is simply incredible and something I wanted to celebrate in my work.
"There are times when I feel stressed about things in life, but this project has allowed me to put things in perspective.
"Margaret is a truly incredible person and I am thrilled that the Brittle Bone Society has accepted my work."
The four plates created by Nicole represent different milestones in Margaret's charitable career.
They highlight the birth of her daughter, the televised Magpie Appeal from the 1970s that raised significant sums of money for the society, the awarding of her MBE, and the receipt of her honorary degree last year.
The plates were produced from red clay, a material chosen deliberately by Nicole to represent the fragility felt by those living with OI.
Accepting the plates on behalf of the charity, Yvonne Grant, Margaret's daughter and charity trustee, said: "My mum really appreciates art and used to craft items for sale in the Society's early days.
"She is delighted that her story has been chosen as part of Nicole's studies.
"We wish her well in her exams and thank her for choosing the Brittle Bone Society as a theme for her submission piece."