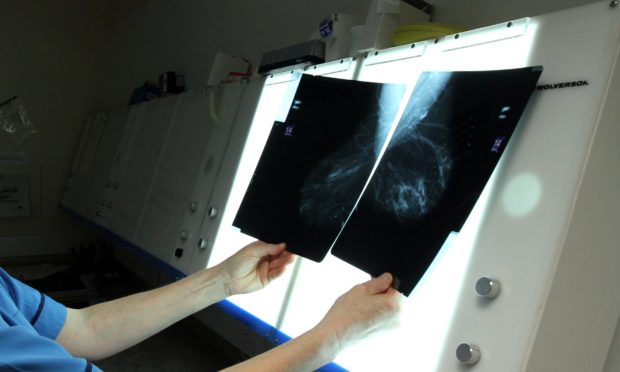 Senior doctors in Tayside claim they have been forced by the Scottish Government to offer patients stronger chemotherapy doses against their own judgement.
Oncologists in the region said they feared for their professional futures if they did not sign up to the "second best" treatment, which requires them to provide higher levels of powerful cancer killing drugs such as docetaxel, despite concerns over harmful side effects.
It comes after a Healthcare Improvement Scotland (HIS) review confirmed breast cancer patients in Tayside had been given lower doses of the treatment than in any other Scottish health board area.
A subsequent risk assessment advised the regime in Tayside may have increased the likelihood of cancer recurring.
Specialists have now raised concerns over the handling of both reports.
One consultant said: "It's been a difficult situation and there is definitely pressure from above.
"We are concerned about it. I suspect some patients will get on okay but we could end up with some suffering excessive detrimental effects. There may even be people who die of chemotherapy treatment who might not have done so otherwise.
"Clearly if we think this is the wrong treatment or it is dangerous to provide that level amount, we will let people know that. But ultimately it will be up to patients and we will have to give the option, even if we do not think it is the best thing."
Strathallan councillor Dr Crawford Reid, a former non-executive board member of NHS Tayside, said some healthcare experts felt "a real sense of injustice" about the way the situation had been handled.
"I contacted several ex-colleagues to get some background information about the individuals in question, none of whom I have any knowledge of," he said.
"The replies were consistent: this is a highly respected group of clinicians who care deeply about their patients and would only do what they genuinely thought was in the best interest of their patients.
"Each person I approached felt a real sense of injustice."
A spokeswoman for the NHS Tayside Cancer Care Support Group confirmed it is considering launching a petition for a full public inquiry.
She said: "We await further reports from the RCP and the GMC. Once these become available for scrutiny, it may be that all concerns will have been addressed and rectified."
"Failing that, we may petition for a full public inquiry where all evidence and data can be thoroughly examined.
"Part of this process would ideally include independent oncologists putting forward their professional views on dosing practices within the FEC-T regimen."
HIS said it had convened a panel to speak to a range of NHS Tayside staff members, including oncologists and oncology clinical leads, and the final report made a number of recommendations based on this.
A spokesperson said: "The recommendations have been accepted by both NHS Tayside and the Scottish Government, and NHS Tayside are developing an action plan to implement the recommendations."
A Scottish Government spokesperson said: "Following concerns raised about variations in treatment compared with other health boards in Scotland, the Scottish Government commissioned Healthcare Improvement Scotland (HIS) to carry out a review of breast cancer treatment in NHS Tayside.
"As a result of the HIS report, the oncologists concerned accepted all the recommendations and agreed to change their practices to bring them in line with other health boards.
"In advance of the HIS report the Scottish Government also convened a multidisciplinary clinical Immediate Response Group to produce a risk assessment of the impact of the variations in clinical practice.
"The risk assessment was published last week."