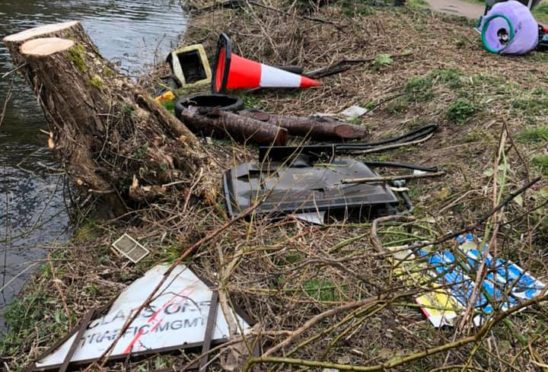 A 300-year-old sluice gate from a long-gone Dundee mill was among the items found in a city burn during a series of clean-ups.
Volunteers also fished out a computer "from the 70s", an entire CD collection, designer clothes, a hoverboard, old TVs, a Buddha statue, traffic cones and 17 shopping trolleys from the Dighty Burn in Douglas.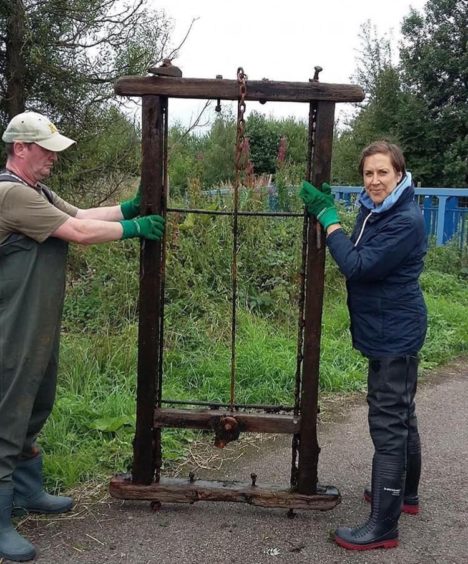 Local conservation group Dighty Connect, who organised the clean-ups, warned any rubbish not disposed of properly had a "high likelihood" of ending up in the water system.
Nicole Pearson, a project worker for the group, said: "Our latest clean-up was last Tuesday and we found a lot of stuff.
"There was an old computer that looked like it was from the 70s, as well as children's toys – teddies, toy cars, a hoverboard.
"There were bags of CDs and DVDs, as well as bags of designer clothes. Maybe they were thrown away during a break-up, who knows.
"We found scooters, furniture, traffic cones, a suitcase full of grass cuttings as well as the usual bottles and food wrapping.
"This was in a stretch of less than a mile – the whole burn is 14 miles long, so it would take an incredibly long time to clean up all of it."
Nicole added: "Last year we found a sluice gate that was 300 years old, from an old mill.
"We don't know how it ended up in the burn. Various museums were interested in it but they didn't have the money to look after it and preserve it.
"They said the best thing to do was to put it back in the burn for the time-being, as wood doesn't rot as quickly when it's in water compared to when it's out in the air."
Nicole explained that anyone can get involved in the clean-ups, even if they are not part of Dighty Connect.
She said: "The environment and climate change have been in the news a lot recently, and the most immediate thing you can do is get involved with cleaning up your local environment.
"It's also worth knowing that any rubbish thrown away – even if it's on the street rather than in the water – has a high likelihood of eventually ending up in the water system, in streams and oceans."
Dundee's Neighbourhood Services Convener Kevin Cordell said he met some of the Dighty Connect volunteers on Tuesday to talk about their work.
He added: "Dundee is really fortunate to have such a great network of volunteer green groups doing fantastic and often unheralded work in our communities.
"I think the world is slowly waking up to the impact of our actions today and how it will affect the world of tomorrow and the pollution created by littering and fly-tipping is part of that problem.
"Plastics stay in the environment a long time, as the haul gathered by Dighty Connect group has shown."