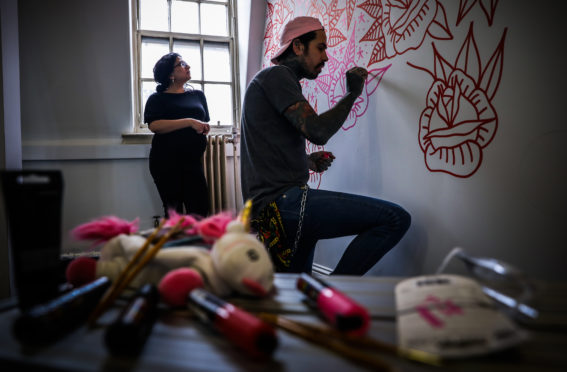 Michael Alexander visits Launch It Dundee – Scotland's first Enterprise Centre to test and support young business ideas.
Young entrepreneurs setting up businesses in Dundee need to make them successful "despite the V&A".
That is the view of Dundee-raised businessman Richard Davies who is lending his support to new Scottish charity Launch It Dundee which is on the verge of opening its first Dundee Enterprise Centre at Kandahar House on Meadowside.
Richard, 32, a former co-owner of Hard Grind barbers, who recently opened the Abandon Ship bar on Whitehall Crescent and will soon re-open a shop on Exchange Street, has been helping to paint artwork for the interior of the Launch It Dundee premises, which will help facilitate business ideas from 18-30 year-olds.
But the former Harris Academy pupil, whose life motto is "Inaction is the Enemy", says that while he is excited by the current relative affordability and opportunity around retail space in Dundee, businesses cannot take the so-called "V&A effect" for granted.
"My thought on business in Dundee is that you have to make business successful despite the V&A," he said.
"I think the V&A has been really good for getting people excited and talking about the city.
"But it's now down to business owners to understand the need to have sustainable businesses that are built for locals in Dundee and also for a little bit of tourism trade – but don't expect tourism to make a massive difference to us.
"We've seen 500,000 people going through the door (of the V&A) in six months. But while it's going well, you're not actually seeing a massive impact on the city centre. We might see that in the summer, or it might take a couple of years.
"I think it's down to knowing that your business would work – even if the V&A wasn't there."
The comment came as The Courier was given a tour of the Kandahar House premises by Launch It Dundee enterprise manager Shabana Basheer.
She said there was great potential for start-up businesses to be grown in Dundee and to eventually occupy some of the currently empty city centre premises.
However, she would still like to see more holistic support from government for individual start-ups and small traders.
Launch It Dundee will be opening its Dundee Enterprise Centre to clients on May 7 following renovations and upgrades to the building.
Supported by several local funders including WM Sword, Nine Incorporated Trades of Dundee, the Northwood Trust, the Robertson Trust, the Tay Charitable Trust, the RJ Larg family Trust and Dundee City Council, the charity was set up last year to meet an evident need for affordable business premises and tailored support for local young entrepreneurs.
Part of the Launch It Trust – a group of charities working towards the same goals – the charity works primarily with 18-30 year olds who are unemployed, under-employed or otherwise facing barriers to conventional employment, and provide them with access to subsidised office space and the business support they need to start and grow their own businesses.
Launch It has existed in London since 2000 – previously called the London Youth Support Trust.
However, it was recently re-branded to expand outside the capital, and while Launch It Dundee is a separate charity, it remains affiliated to the larger organisation in terms of values and the types of young people that it works with.
"Obviously an organisation from London coming to Dundee seems a bit random," said Shabana who grew up in Edinburgh and Yorkshire, and previously managed the Red Cross international youth volunteering programme before moving to Dundee in 2017.
"But the key thing was (former Dundee City Council chief executive) David Dorward who is heavily involved in the Rank Foundation. The Rank Foundation funded a similar centre in Hull.
"Essentially David thought there was a real need in Dundee and asked the team to come up and do a bit of scoping out and see if there was a need, space, support from local organisations and the council.  That was probably three years in the making – and here we are!"
The Kandahar House offices, which will cost £50,000 – £60,000 per annum to run, has capacity for 16-18 low rent units plus hot desking options.
Shabana's role is to support and advise clients who approach the charity with business ideas– asking questions like whether this is something that already exists? Why is this likely to work in Dundee? Who are they targeting?
Other organisations like Business Gateway offer excellent training courses. However, working in collaboration, Shabana says Launch It Dundee aims to increase accessibility to opportunity.
"I think for us the key USP is that we have access to space that's affordable and that's not long term," she added.
"It's long term enough for young people to have a chance to test their ideas and make sure this is what they really want to do. But no one has tied them to a long lease. No one is trapped in a cycle where they are not actually growing their business and unable to move on."
Shabana said support so far had been "excellent" and good links had been built with other employability and enterprise support organisations in Dundee.
Now they were really looking forward to getting started and adding their unique service to the entrepreneurial ecosystem.
"I think it's about planting the seed," she added.
"A lot of people who go into self-employment are people who've been in a trade for a long time, come into money they've inherited, and decide 'I'm going to buy van and set up on own'. That's one group of people.
"There are others who think of an idea but never thought it is something they could practically do.
"That's where we can really help. Obviously we are working with a much younger demographic – 18-30 age group who might not have had a career, haven't got that life experience.
"But just getting people to explore those options and opportunities and not thinking the first job you do in life is something you are stuck in. That's so important."
Chris Van Der Kuyl of 4J Studios, who will officially open Launch It Dundee's Enterprise Centre on Tuesday  May 7, said: "Entrepreneurship is vital for Dundee to grow and prosper. I am delighted to lend my support to Launch it Dundee and their exciting initiative that gives young people the opportunity, tools and support to start their own sustainable business, regardless of their background."
John Alexander, leader of Dundee City ouncil, will also be speaking at the official opening.
He said: "Launch It Dundee fills a key gap in Dunde's enterprise support infrastructure.
"Providing young entrepreneurs with the space to test and grow their businesses is vital to ensure that Dundee continues to develop a strong and sustainable economy, where everyone has the opportunity to prosper."
Alison Henderson, CEO of Dundee & Angus Chamber of Commerce, and David Dorward, former CEO of Dundee City Council and chairperson of Launch It Dundee, will also be speaking at the event.
*Those interested in attending the opening can book tickets at https://bit.ly/2EU2336 (limited number available).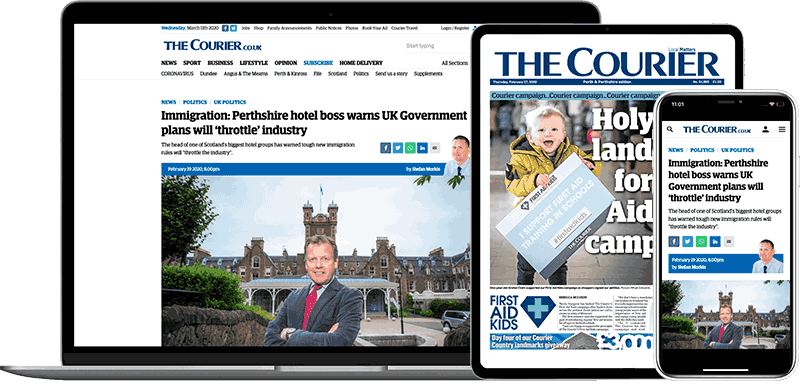 Help support quality local journalism … become a digital subscriber to The Courier
For as little as £5.99 a month you can access all of our content, including Premium articles.
Subscribe