Michael Alexander visited Dundee International Women's Centre (DIWC) which is celebrating its 50th anniversary this week.
It's 50 years since the launch of Dundee International Women's Centre (DIWC) and this week, friends old and new are being invited to share their stories on special celebration days.
On Wednesday May 1 and Thursday May 2, from 10am to 3pm, free drop in sessions – funded by the Heritage Lottery Fund, Scotmid and the Nichol Trust – will feature an interactive exhibition on the history of DIWC, plus the chance to take part in workshops and try street food.
DIWC started in 1969 when a social worker began visiting the families of overseas workers who had come to Dundee to work in the jute trade.
The women were lonely and isolated, and needed support – and DIWC was born.
From a small shop on Church Street to a flat on Lyon Street, to the present purpose-built centre at Manhattan Business Park on Dundonald Street, DIWC has empowered thousands of women from all cultures, backgrounds and walks-of-life to achieve their goals.
Five decades after its creation, educational, social, health and wellbeing, and employability classes are giving women  the confidence they need to pursue their dreams and contribute to all aspects of society – and when The Courier visited this week, the passion for the centre and its aims was evident.
Susan A'Brook, evaluation and impact officer at DIWC, said the project had expanded in what it offers.
However, with a nod to the "tremendous foresight" of its founders, it remains true to its aims to help lonely and isolated women learn English and to help them become more integrated in the local community.
Strategy and operations manager Beth Morgan said: "Traditional classes like baking and sewing are still really really popular. But we have expanded our repertoire to do things like employability, child care and IT.
"Our value base remains the same – any woman in the world can come in here – and lots of Dundee-born Scottish women – about 15% of those who visit – do too."
DIWC, a charity which costs around £500,000 per annum to run, caters for around 500 women annually and last year it represented 80 nationalities and traversed all religions and cultures. As well as Dundee, women also attend weekly from Angus, Perth and Fife.
Around half of the women using the project initially come for English classes. Learning the language is crucial for overcoming isolation, integrating and engaging with society.
However, more than that, it empowers women to simply be women – to grasp other opportunities and to become role models within their families and communities.
Vaqar Salimi was schooled and raised in the UK. However, when her husband's work brought her to Dundee from the Manchester area in 1994 , she found herself isolated and feeling alone in a city she didn't know.
She said: "I would drop the children off then go home again and go back to bed. It was absolutely awful. And yet I was someone who knows the language, knows the system, knows the country.
"The problem was we have certain barriers in our culture where we couldn't go to random places. So where do you meet people?"
Four years after arriving in Dundee, Vaqar went to DIWC to join a cooking class. She never looked back.
It was an opportunity to strike up conversations with people in similar situations from different cultures. It led to her becoming a committee member and to other members of her family getting involved through youth groups then as volunteers themselves.
It was at the cookery class she first met Kashmir-born project worker Fatima Ramzan whose work with DIWC began in 1993.
Fatima's father first came to Britain through the invitation of the East India Company after the partition and civil war between Pakistan and India. She came to Britain later with her mum and older sister.
Family commitments saw her move from Bradford in West Yorkshire where there was a large black and largely segregated ethnic minority population to the relatively quiet suburbs of Dundee.
Having always wanted to reach out to wider society, and looking for fulfilment around her family commitments, she too attended a cookery class at DIWC to meet like-minded people.
It opened the door to becoming a board member – going on to complete an access year and psychology degree at Abertay University followed by post-graduate Community Learning and Development (CLD). At the same time she was running a family business with her husband and worked as a childcare practitioner at DIWC's crèche.
"Everyone who comes here is part of the DIWC family," she said, adding that Scotland had always felt more welcoming and friendly to her than her experiences in England. "It's a home from home. We have such a diverse team. All the cultures help break down barriers and cultures."
While it remains to be seen how Brexit will affect the demand for services in the months and years ahead, The Courier met several other women who are striving to overcome isolation to better themselves and become role models for their families and communities.
DIWC childcare manager Nausheen Karim, was born in the UK to parents of Yemeni and Kenyan origin.
Married young, she moved to Dundee in 1998 when she was 19
Before she knew about the centre she was "completely isolated".
However, when she started a child care course, she made her first friends and retains these bonds to this day.
"The childcare course gave me confidence to go to college to do an HNC, and I helped set up the Rise and Shine social enterprise here," she explained.  "This allows women to put their children in the crèche when they go to classes. I'm also manager of a pop up child care service for conferences and weddings."
French-born Coventry IT graduate Diare Drammeh, whose parents come from Senegal and the Gambia, arrived in Dundee in 2007 and initially helped at the centre as a volunteer from 2009.
However, it also opened a door for her to pursue a masters in Community Learning and Development at Glasgow University – a part-time course she completed whilst juggling child care at the same time.
Another success story is Salma who was just 17 when she came to Dundee in 1982.
Sadly, two of her children, who had been sick, passed away.
"Suddenly my life stopped," she said.  "My sister used to work here as a receptionist. I had a very strict upbringing and husband. I was quite supressed. I came here because it was an all women's centre. It was an opportunity to develop into so many areas. I went into child care.  I was amongst the first to start the crèche."
Having overcome various cultural challenges, she now teaches English and is a positive parenting worker.
Like so many others, she is a role model to the current crop of women and to those who will follow.
The charity also wanted it to be noted that they are well supported by men.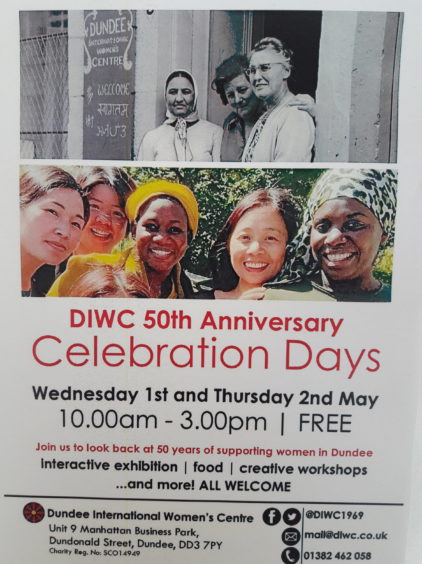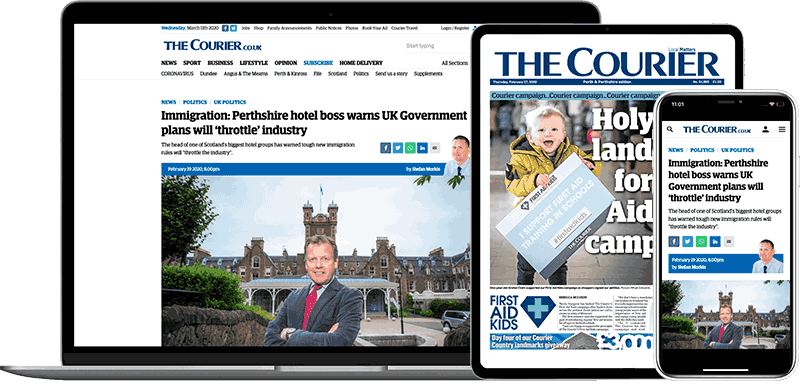 Help support quality local journalism … become a digital subscriber to The Courier
For as little as £5.99 a month you can access all of our content, including Premium articles.
Subscribe