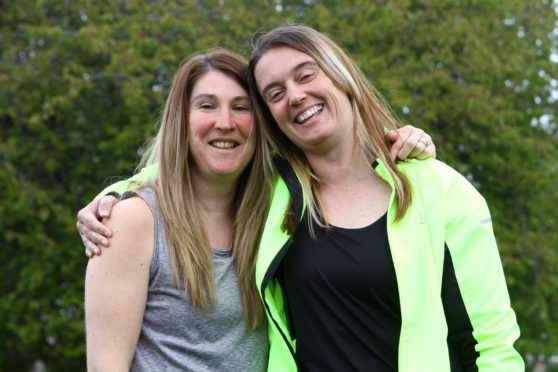 Two Dundee women are preparing to take on the Edinburgh Marathon in honour of loved ones who have died as a result of heart conditions.
Kim Ogilvie and Susan Owler have been training together for months in preparation for the 26-mile endurance race.
The pair, both aged 41, are raising funds for different charities in honour of people they have lost — Kim for her cousin Yusef Abubaker and Susan for friend Greg Mackie.
Kim's charity is the Yusef Abubaker Memorial Trust, set up after the former Harris Academy pupil died aged just 12.
Susan's proceeds will go to the British Heart Foundation.
The original plan was to raise £800, but the pair have raised their target to £1,000 as donations to a JustGiving page soon amounted to £600.
The money will be split evenly between the two causes.
Yusef died suddenly while playing football in 2007. The cause of death was put down to a sudden cardiac arrhythmia.
Kim, who completed the Edinburgh Marathon 10 years ago and swore she would never do another one again, said having Susan on board to train with has been a great inspiration.
She said: "I only just completed the marathon the last time I tried it.
"Once the muscles weren't aching so much, I did feel really good about it, but it was difficult.
"I am a bit apprehensive, it's a lot of miles, but with the training I've put in this time I feel it will be fine.
"I've been training with Susan since January and it's made training a lot better. It pushes you on as you are letting someone else down if you don't turn up for a run.
"They're both great charities and we hope to raise a lot of cash for them."
Susan and Greg worked together and became firm friends. He was born with a heart condition and was told he wouldn't live long enough to finish school.
He died around two years ago at the age of 34.
Susan said: "I never did ask him too many details about the heart condition as it felt like prying too much, but he got a lot more life than he was told he would have. It's still such a young age to pass though.
"We worked together for a while and then became good friends.
"I did the Dundee half-marathon a couple of years ago and I said I would never do anything like that again.
"We have put in a lot or work towards this and did 18 or 19 miles the other week."
The Edinburgh Marathon takes place on May 26.