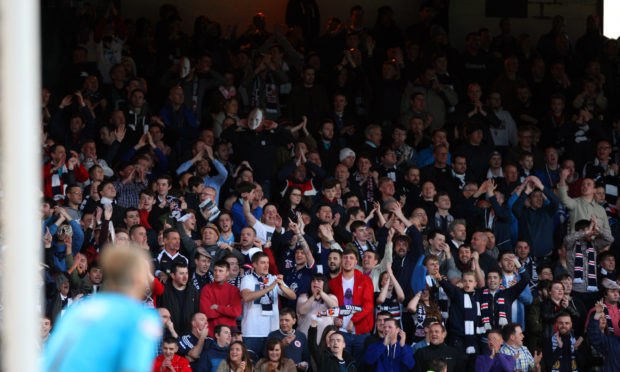 The departure of Jim McIntyre from the Dens Park hotseat surprised few supporters yesterday.
The former Ross County manager took over Dundee FC in October but only recorded four victories during his 31-game spell in charge.
He oversaw the club's relegation and a 10-match losing streak.
Ironically, he was shown the door after the club finally snapped their winless run with a 1-0 victory at Livingston.
A club statement yesterday afternoon confirmed McIntyre's departure and that of his assistant Jimmy Boyle.
It said: "Dundee Football Club can confirm that Jim McIntyre and Jimmy Boyle have left the club with immediate effect.
"Jim came to the club in October last year and shortly after Jimmy was appointed as his assistant manager.
"The management team oversaw 31 matches in charge, with four victories, seven draws and 20 defeats."
Stoke City star Charlie Adam, who is originally from Dundee and is a supporter of the Dark Blues, posted on Twitter: "Gutted for Jimmy Boyle. Big appointment in summer."
Fan Jamie Stewart said: "Correct decision. The worst record in club's history, he did inherit a tough gig but he failed to save the club."
James Thomson said: "Now get rid of every first team player for getting us relegated. Keeping that dead wood will not get us promoted."
David Ogilvie, 35, said: "It's a difficult job. You can't not notice the bad performance of the team but there's more behind the scenes and I don't think it can all be blamed on a manager."
Michael O'Connell, 21, added: "I think he deserves it. Dundee's performance has been awful. I'm surprised he has even been kept on this long. I'm not too fussed about who replaces him."
David Menzies, 65, said: "He was the one who put the team together and they've not come together well at all, so he had to go. I can't think of anyone to replace him though."
Mikey Palmer, 31, added: "I think it was deserved, he simply wasn't good enough. Dundee's performance has been pretty bad, so there was no other way it could go really."
Thirty-nine-year-old Dundee striker Kenny Miller is the bookies' favourite to replace McIntyre.