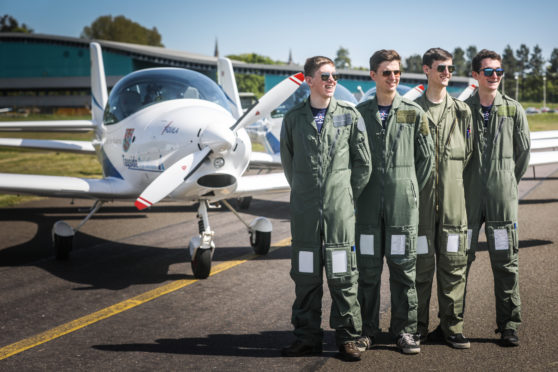 The tragedy of a trio of brothers who died in aerial action within three years of each other has been marked on Tayside.
A set of new training planes has been named after the MacRobert brothers, as well as another airman with links to the family.
The Aquila aircraft were unveiled by RAF cadets at Tayside Aviation, at Dundee Airport on Tuesday.
They bear the names of Alasdair, Roderic and Iain MacRobert, as well as Warrant Officer Donald Jeffs.
The planes will be used to teach RAF cadets to fly, with many going on to become pilots or officers in the air force or Royal Navy.
Jim Watt, managing director of Tayside Aviation, sought permission for the planes to carry The MacRobert Trust crest and the names on the Spirit of Alasdair, Spirit of Roderic, Spirit of Iain and Spirit of Warrant Officer Donald Jeffs.
The aircraft's names commemorate one of the most poignant tales of  the Second World War.
Alasdair, the eldest son of Lady Rachel Workman MacRobert and Sir Alexander MacRobert was killed in a civil flying accident in 1938, aged just 26.
RAF pilot Roderic was lost in action on May 22 1941, aged 26, while he led a flight of Hurricanes in a strafing attack on a German held airfield in Iraq.
Fewer than six weeks later, Iain was reported missing. His Blenheim aircraft failed to return from a search and rescue mission flown from Sullom Voe airfield in the Shetlands. The 24-year-old's body was never found.
As a result Lady MacRobert donated £25,000 to buy a bomber, named MacRobert's Reply.
The Stirling bomber of XV Squadron was handed over to Flying Officer PJS Boggis in 1941. He flew 12 missions in it but on May 17 1942, it was shot down during a weapons drop to for the Danish resistance. The only survivor of the crew of eight was Flt Sgt Donald Jeffs.
Badly burned and captured, he survived the war and died 2017. The Danish people erected a memorial at the crash site in 1948 and a service is held each year on Danish Liberation Day, May 4.
Mr Watt said the aircraft "tell an important story of selfless bravery, sacrifice and resilience.
"We felt that it would be a fitting tribute, timed around the anniversary date of the crash and Danish Liberation Day."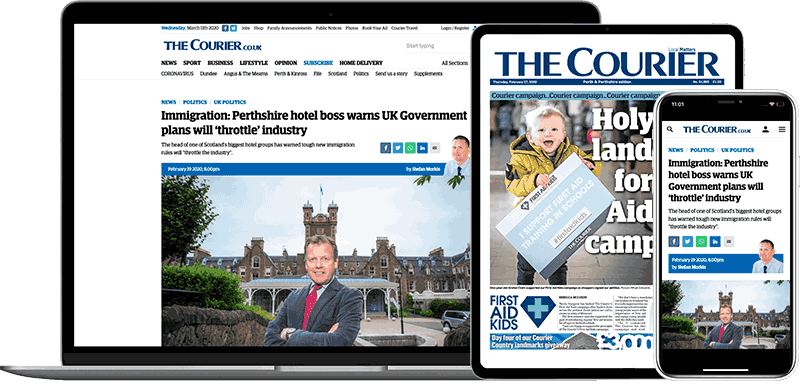 Help support quality local journalism … become a digital subscriber to The Courier
For as little as £5.99 a month you can access all of our content, including Premium articles.
Subscribe