United fans queue overnight to get hands on tickets for biggest game of season
Football fans queued overnight for up to 16 hours to get their hands on tickets for their club's biggest game of the season.
Dundee United have another shot at promotion to Scottish football's top tier in the playoff finals this week following three years in the lower reaches.
Two ties against St Mirren — at home on Thursday and away on Sunday — will see whether they climb back to join the country's elite.
The Paisley side's second-bottom finish in the Scottish Premiership means they provide the opposition against United, who finished second in the Championship and beat Inverness 4-o on aggregate in the playoff semi finals.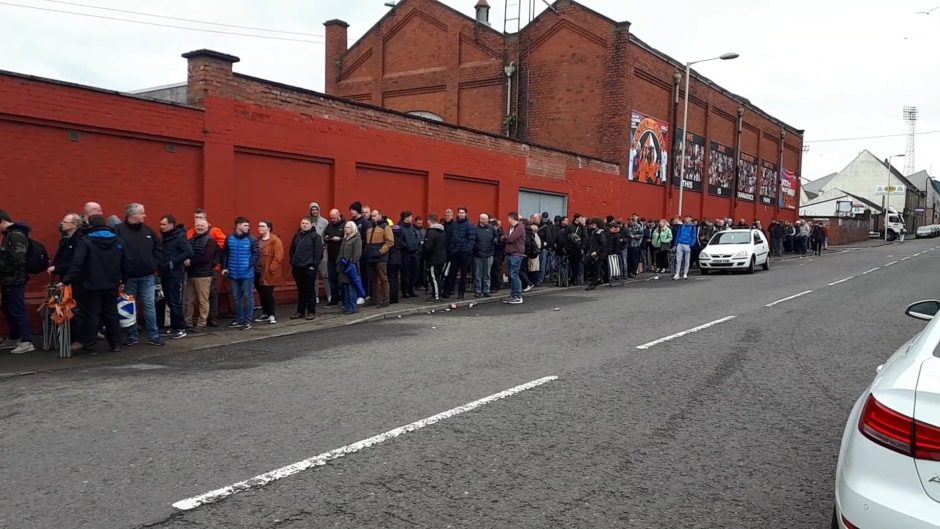 The first fans arrived at around 5pm on Monday — 16 hours before the ticket office doors opened – to secure briefs for Sunday's away leg, with only 1,500 made available.
Diehard supporter Dylan Piper queued for nearly 11 hours from 10.30pm on Monday to grab tickets for himself and his dad.
The 26-year-old from Douglas said: "I was looking on Facebook on Monday night and saw the queue was getting big.
"I thought I better get down there because if people are snapping up 25 or so tickets then they'll be gone quick.
"The queue was getting bigger and bigger quickly and by the time I got down it was about 50 strong. I got my ticket at 9.20am."
Paul Riley, 48, a lifelong season ticket holder queued throughout the night in shifts with friends and said the wait was "pretty brutal" for some.
He said: "It started raining at around midnight and got heavy a few hours later.
"I was lucky that I had a car to jump in and dry off but there were lots who were completely drenched.
"It didn't seem to bother most of them though, it shows dedication.  It was all worth it in the end.
"Let's hope the players reciprocate our efforts over the two games and we get back to where we belong in the top league."
Hundreds of people were still patiently waiting when staff announced all tickets were sold at about 9.40am.
Tickets for the away leg have now sold out. https://t.co/zWiCgEfHUI

— Dundee United FC (@dundeeunitedfc) May 21, 2019
Jed Bell, from the Dundee United Supporters Foundation said he was "gutted" to miss out after queuing from 2.30am but said it was not the fault of the club.
He said the match should have been a one-off final in a larger, neutral venue. St Mirren Simple Digital Arena only holds 8,000 fans.
He said: "Decisions like this from the Scottish Professional Football League (SPFL) turn loyal fans away."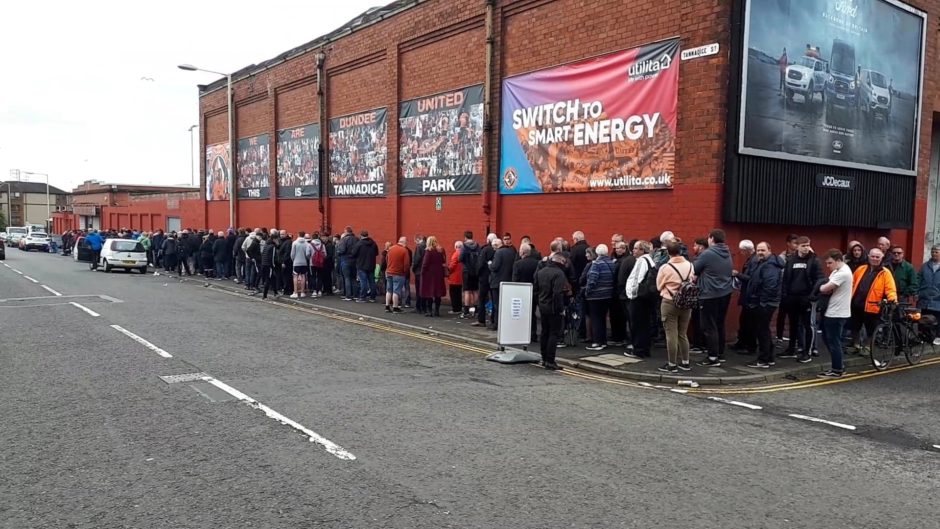 Gareth Anderson, 38, said he came down to get tickets for the home leg and would "see what happens" after that.
He said: "I took the day off to get down today.
"I'm just getting tickets for a few people for Thursday's game.
"It'll be a case of see what happens in the first game but I might get down to Paisley for the second leg too and take the day off.
"I doubt I'd get a ticket but I can go to the pubs there."
Dundee United managing director Mal Brannigan praised the reaction from fans.
He said: "There has been an outstanding demand for this game and we were aware that the allocation we had was never going to be enough so there'll be a number of fans disappointed at not being able to secure a ticket.
"The Club has looked into the possibility of showing the match on a giant screen within Tannadice but unfortunately, due to logistics and supply, we have been unable to obtain one.
"The Hegarty Suite will be open for those wanting to watch the game at the ground and the details for tickets for this will be announced shortly.
"I'd like to thank the fans who queued outside all night for their patience and their good spirits. In addition, the work done by all of the Ticket Office staff, many who are volunteers, should also be noted and commended."
St Mirren fans had similarly turned out in force for their allocation of around 1,400 Tannadice tickets. Both ties are expected to sell out.