Empty units at the Keiller Centre will be brought to life this week as the Dundee Design Festival moves in.
More than half of the centre's units have lain empty for some time but have received a facelift with local artists moving in.
The eight-day run for this year's Dundee Design Festival (DDF) poses questions about how design and art can shape a city.
A splash of colour has been added to the empty units and the front entrance now includes neon lightning.
Visitors will be welcomed by a sardonic concierge, Chris O'Mara, the self-proclaimed  Fountain of Knowledge, who will answer questions — as long as he can find the information on the internet.
Among the attractions are printmaking, poster design, storytelling, photography and more.
The festival, which launched on Tuesday, is the first time there has been a chance to get something to eat or drink in the Keiller Centre since Greggs closed down.
One unit has been transformed into a cafe run by the people behind The Bach restaurant.
Others have become a design superstore, a living library and a laboratory where a new scent will created by fragrance studio Arboretum and designer Pete Thomas.
Fife-based social project Make Bank, which provides the materials required to give disadvantaged youngsters a start in creativity, has also taken over a unit.
Special playlists have been made in collaboration with local artists and record shops to soundtrack every day of the 2019 DDF.
#DDF19 is open for business! pic.twitter.com/C8i1ThSt4Q

— Dundee Design Festival (@DesignDundee) May 21, 2019
The year's festival was organised by Lyall Bruce and Ryan McLeod from Agency of None, in partnership with Unesco City of Design Dundee.
Annie Marrs, Unesco lead officer, said: "We wanted to see how people want to spend their time shopping these days."
Ms Marrs also insisted moving in to the Keiller Centre was "augmenting" what is already there, as opposed to replacing the shops.
A brand new font was created for the festival. While a final name has yet to be decided, it is being called Dundee Variable for the time being.
The name is a reference to the fact certain elements of the font can be adjusted according to its needs. All signage for the festival uses the new font.
Lyall Bruce said: "There was a real concern about what city centres are going to be like in the future and how much empty space there seems to be.
"That was at the forefront when we were considering this site."
Established business owners were reportedly cagey about the artists moving in, but have since come around to the idea.
Keiller Centre manager Angus Morton said: "It's bringing something completely different to the centre.
"The freshly painted exterior and revamped units are looking great and we're hoping the design festival will bring lots more people to the centre.
"Across the world, city centres are changing because shopping habits are changing and we need to create other things to do in our city centres."
And outside of the Keiller Centre, there will be a parade in the city centre on May 25 that will see a "riot of colour and music". It will take off from City Square at 3pm, head up Reform Street and turn towards Murraygate before going back on itself.
Business-owners praise project
Lee Caswell owns Lee's Keys in the Keiller Centre, where his family have been in business for 40 years.
He said: "It's great to see some life back in the centre, rather than the grey shutters that have been there for the past ten years.
"It's declined in the last 40 years since we lost the butchers and the bakers and things like that definitely. It's looking great."
Robert Lawrence has been running R&M Sole and Heel Bar in the shopping centre for four decades.
He said: "This used to be one of the busiest centres. It used to be really, really busy. It would be good if they (the empty units) could get some life brought back into them.
"They've been empty for a while now. They could do with having some life put back into them and this is the thing that might help.
"They are definitely needing something like a spotlight to get a boost, to let people see what is actually in the centre."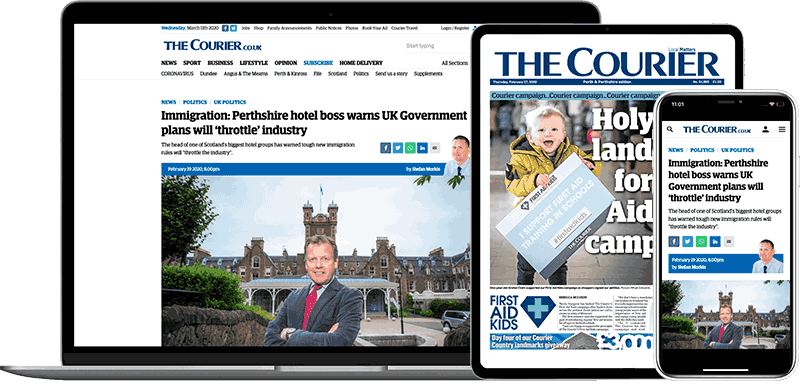 Help support quality local journalism … become a digital subscriber to The Courier
For as little as £5.99 a month you can access all of our content, including Premium articles.
Subscribe