Tributes have been paid to a popular Dundee boxer who enjoyed success as a professional fighter and helped to run a women's basketball team.
Peter Cain, 88, was originally from Newark, near Nottingham, but he pulled on his boxing gloves in the 1950s after moving to Dundee.
He went on to have a 16-bout professional career.
Mr Cain suffered from dementia in later life and died last Sunday in the Royal Victoria Hospital, in Dundee.
Peter Cain, his son, 55, said: "I am very proud of my father.
"Sport was massive to him and he was a huge influence on people over the years due to the sporting angle."
Mr Cain served in the RAF and won the RAF Championships for boxing.
He was also involved in the Lochee Amateur Boxing Club when it was named Midlands Champion for 1949-50.
He won his first professional fight against Jack Slavin at the Caird Hall on September 27, 1950.
Mr Cain fought at welterweight and middleweight and was active between 1950 and 1954.
He collected nine wins but lost his final three fights by knock-outs.
His last bout was on November 8, 1954, in Newcastle when he was defeated by Eric Ludlam.
Mr Cain was also heavily involved in running a women's basketball team and the NCR basketball team in the city.
His love of sport saw him draw up plans for a new sporting stadium in Dundee which went on show in the press in July 1962.
Mr Cain married his wife Antoinette at St Andrew's Cathedral, in Dundee, on February 11, 1953.
The couple had two sons Peter and Michael and one daughter Nicola, as well as grandchildren Richard, Ryan, Jennifer, Andrew, Christopher, Linzie, Jillian and Molly, and two great grandchildren Ray and Ivy.
Over the years he held several jobs including as a taxi driver and in community education.
The funeral arrangements have yet to be finalised.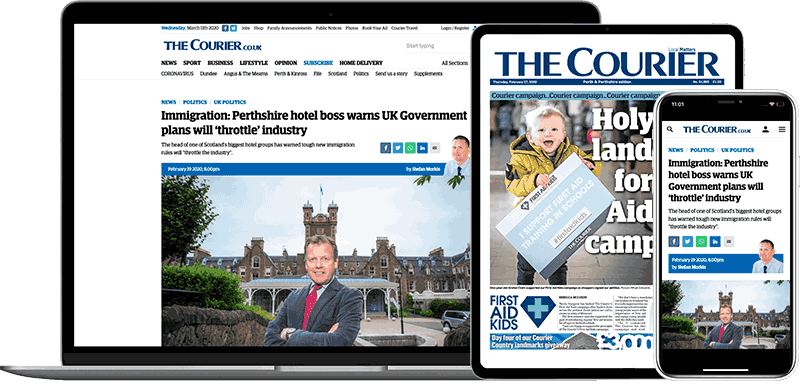 Help support quality local journalism … become a digital subscriber to The Courier
For as little as £5.99 a month you can access all of our content, including Premium articles.
Subscribe