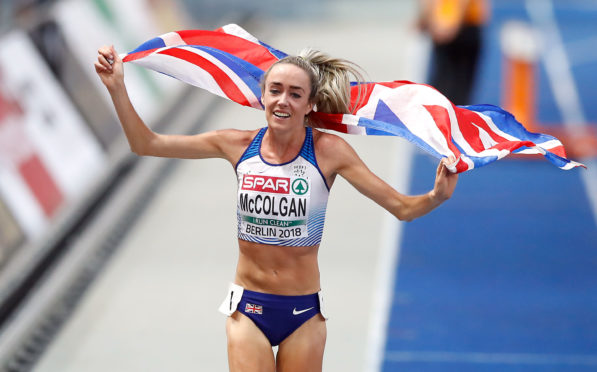 A Dundee-born Olympic runner has spoken of her anger after thieves ransacked her home, stealing family heirlooms and commemorative medals just a day before an international competition.
Eilish McColgan, who represented Scotland at the 2016 Rio Olympics and in several Commonwealth Games, was told about the break-in shortly after arriving in Sweden for the Stockholm Diamond League, where she is due to compete on Thursday.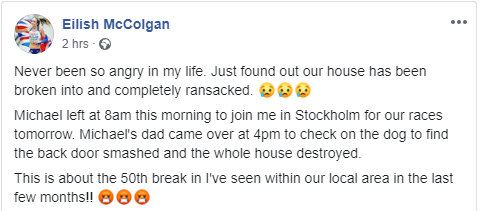 The 28-year-old athlete fears a gang said to be operating in the area had been watching the home that she shares with her partner in Manchester and biding their time to strike while the couple were out of the country.
Among the items stolen was a bespoke Olympic logo necklace gifted by her mum, as well as jewellery handed down by her grandmother.
This necklace is something they've stolen! Alongside all my other jewellery, British athletics medals and some commemorative medals from Olympics & Commonwealth Games! Please keep an eye out for these items around Manchester if you can! pic.twitter.com/xUKXZY1kFJ

— Eilish Mccolgan (@EilishMccolgan) May 29, 2019
Commemorative medals from her Olympic and Commonwealth appearances and her British Championship medals were also taken during today's break-in.
The couple's dog was found locked in a room and was unharmed.
Eilish said: "Never been so angry in my life. The place is completely trashed.
"They broke in through the back door, which is glass and it's all smashed.
"Everything's been turned upside down – all of the furniture overturned and you can't see the floor for stuff that's been thrown about.
"My boyfriend had left to join me in Stockholm at 8am and when his dad came to look after the house at 4pm, it had been broken into.
"In the area there have been around 30 break-ins and car thefts in the space of just a few weeks and we think the same gang may be behind it all.
"They might have been watching the house, as it seems a bit of a coincidence that they broke in right after my boyfriend left."
Eilish said she is yet to speak to the police about the incident.
She added: "Every piece of jewellery I've ever owned has been stolen, including jewellery from my grandmother and a necklace that my mum had got specially made for me.
"It isn't even stuff you can sell easily because it's so personalised.
"It's upsetting and stressful when you're far away because you feel helpless."