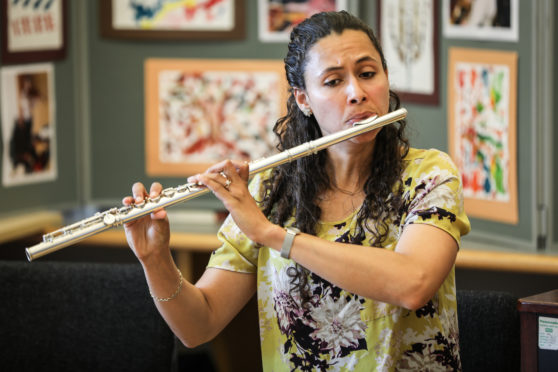 Stroke and brain injury patients in Tayside have been inspired by spring in the finale of a programme with the Royal Scottish National Orchestra (RSNO).
Participants from the Headway Dundee and Angus group wound up the third year of the creative engagement project at the Wighton Heritage Centre yesterday.
Over the past eight weeks, members worked with musicians Katy Fennema and Lee Holland from RSNO, with additional support from visual artist Naomi McIntosh, orchestra viola player Maria Trittinger and principal trombonist Davur Magnussen.
Participants were encouraged to work with a variety of instruments including rhythmic and musical percussion, piano and voice. They explored composition through written notation and verse and discovered their own sources of inspiration.
The approach led to a combination of visual, written and composed work which became the basis of three movements of music shared with an audience on Monday.
The programme was supported by NHS Tayside and the RSNO's learning and engagement programme in Dundee, which is supported by Northwood Charitable Trust.
Head of learning and engagement at RSNO Samantha Campbell said: "The musicians have taken the group through a number of planned musical exercises and techniques that gradually evolved from quiet musical meditation to bold vocal compositions.
"It has been particularly satisfying to see the participants' confidence increase and realise the pleasure there is in making music.
"What is exciting for us is exploring how to build work with a large group of participants which creates social and interactive activity."
The RSNO programme is one of a range of art schemes for people with long term conditions currently being delivered by Tayside Healthcare Arts Trust (THAT).
The trust promotes creative engagement with the arts to enhance participant's health and wellbeing.
THAT project co-ordinator Chris Kelly said: "This is our third programme with Headway and RSNO and we have seen a change in direction for the group.
"They were asked to make more formal compositions and have risen to the challenge and directed of how the music is developed.
"Partnering with Scotland's national orchestra over the past three years has given our participants a new perspective on music and the thrill of playing together.
"The group had the opportunity to see the orchestra perform at the Caird Hall which enriched the experience of the programme."