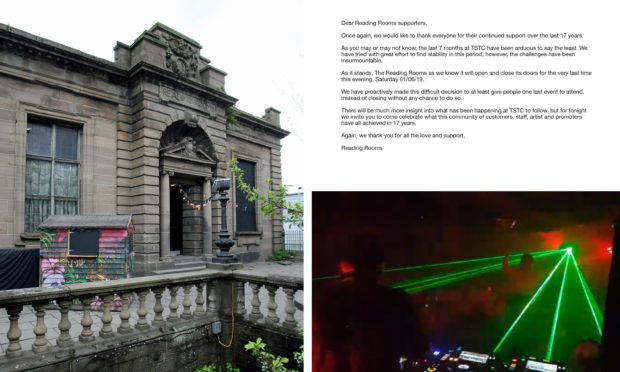 Clubbers across Scotland have been reacting to the shock closure of an iconic Dundee venue.
Reading Rooms, on Blackscroft, closed its doors on Saturday night after facing "insurmountable" challenges since 2018 following increased scrutiny from the authorities.
Over 17 years the nightclub – also known as The Small Town Club (TSTC) – established a reputation as one of Scotland's best venues and attracted some of the best DJs and musicians in the world.
Huge queues formed outside the Reading Rooms on Saturday evening as revellers turned up in force to say one last goodbye to the club.
And Friday evening was described as "incredible" by Headway Dundee, a house and techno night which has been running at the Rooms for years.
The event's organisers posted: "Friday night was absolutely incredible, the best send off we could ever wish for. So many old faces out, what an effort from everyone, we love you all."
Friday night was absolutely incredible, the best send off we could ever wish for. So many old faces out, what an effort from everyone, we love you all x

Posted by Headway Dundee on Sunday, 2 June 2019
The club's management broke the news of the closure to followers in a statement on Saturday morning.
It read: "As you may or may not know, the last seven months at TSTC have been arduous to say the least.
"We have tried with great effort to find stability in this period. However, the challenges have been insurmountable."
The statement adds there will be further information on what led to the closure in the future.
Dundee venue considered one of Scotland's best nightclubs announces permanent closure
It comes after the venue was referenced as one of Dundee's top attractions by the Wall Street Journal in 2017, which named the city the fifth-best destination to visit in the world in 2018.
The Reading Rooms was operated by Grant and Jim Grieve. The building is owned by Blackscroft Property.
The structure itself is a B-listed building designed by Dundee architect James Thomson.
The announcement was met with a mix of emotions online, with DJs and clubbers among those to share their thoughts.
Clash Magazine described the end of the Reading Rooms as a "shocking loss for Scottish clubbing".
Many took to social media to say farewell to the nightclub.
Scots DJ JD Twitch said: "Really sad to hear this. I have had so many incredible nights at Dundee Reading Rooms over the years. Farewell old friend."
Reacting to the post on Facebook, Lynnzo Guyan said: "Such a sad day for all who love TSTC. Like everyone else I've had some of the best nights at the rooms and even managed to pass on the baton to one of my kids when she turned 18 when I took her to a reggae night with Mungo's Hi Fi. Needless to say she loved the place and had been a regular since.
"As a parent, when your daughter-son going out drinking can be worrying but always felt she was in safe hands at the rooms."
James O'Hara added: "Sad times. This place and the people I met here are the reason I stayed in Dundee for all these years.
"It feels like a massive part of the community I was part of has been torn out and discarded for no truly justifiable reason."
Another Reading Rooms fan said: "This cannot be real. I've spent probably verging on hundreds of nights at the rooms and have some of my fondest memories there.
"Easily my favourite club in the world. Had laughs with so many friends over the years. Saw my favourite DJs, danced my heart out. Loved the staff, loved the garden.
"Devastated is an understatement. Truly upset. Thanks for all the fun time. Honestly some of my best times ever. I cannot believe Dundee is letting this happen."
Louise Gorrie said: "Many awesome nights in the Rooms. Will miss the amazing atmosphere and people who made it the place to go for a good dance."
Really sad to hear this. I have had so many incredible nights at Dundee Reading Rooms over the years. Farewell old friend. https://t.co/V7mvwGulrT

— Optimo (Espacio) (@JDTwitch) June 1, 2019
Heartbroken by the news that the Reading Rooms, the best club in Dundee by a vast margin, is closing permanently. Rooms was a huge part of my social life in my late teens, but also home to three amazing @LeftfestDundee events I'm not sure we could have pulled off anywhere else.

— Connor Beaton (@cdbeaton) June 1, 2019
Arguing with Shaun Ryder ?? the manifesto bday bash and losing a hell of a lot of grey matter. Sad loss to Dundee 🙁 the rooms was where it happened ? https://t.co/Tg5eDAv3Be

— June dickson (@Juneee1974) June 3, 2019
Sad day for the city!

Was one of the most popular clubs in Scotland, attracting some of the best acts and even better clientele! #Dundee music scene won't be the same again!

RIP Reading Rooms https://t.co/rN9VFh0RQR

— DUNDEE TOURIST BOARD (@DundeeTourism) June 1, 2019
Dundee out in force tonight to mark the really sad end of an era. @thereadingrooms one of a very few special clubs in Scotland all about the music, community and fun. It spoiled me for other nightclubs. RIP. "We go hard way but never give up" pic.twitter.com/zK3pmWeCit

— Catriona MacPhee (@catmacphee) June 1, 2019
So sorry to hear the news. Dundee will miss such a great wee venue . Was great to be a tinny part of the history with being a resident at the Deep N Dirty nights a good few years back : o)

— Alan Peacock (Anderson Council) (@plumst3r) June 1, 2019
RIP…Had some of the best times of my uni experience at rooms. Truly a shame for the city of Dundee ??? https://t.co/k1MnJhMmoI

— Sarthak (@Sarthak_Wagle22) June 2, 2019
rooms is best place to go in Dundee so sad it's shutting

— morgan (@morganwallace28) June 1, 2019
such grim news to read this on-route to dundee. the rooms is a unique hub of underground culture and such a asset to the city. just a pity the council are too myopic to see it. https://t.co/Bu7s3Zox56

— Lewis Wotherspoon (@LewisSpoon) June 1, 2019
Heart breaking mate best venue in Dundee by a mile

— Just Iain is fine (@iainlives) June 1, 2019
A devastating loss to Dundee. Our cultural 'regeneration' already has a lot to answer for. I hope Rooms gets an incredible send off! https://t.co/OcAfcXZaZR

— James Barrowman (@terriblenobody) June 1, 2019
RIP to The Reading Rooms.

The gentrification of independent and alternative culture continues apace.

Bleak.

— Make That A Take (@makethatatake) June 1, 2019
A massive loss for Scottish clubbing – Dundee's Reading Rooms will shut its doors… https://t.co/oZIS7C1XPt pic.twitter.com/8ajRThNdpp

— CLASH (@ClashMagazine) June 1, 2019
Sending big sweaty hugs from @LostGlasgow
One of the best clubs in the UK.
Is that you 'Homeless' again?

— Lost Glasgow (@LostGlasgow) June 1, 2019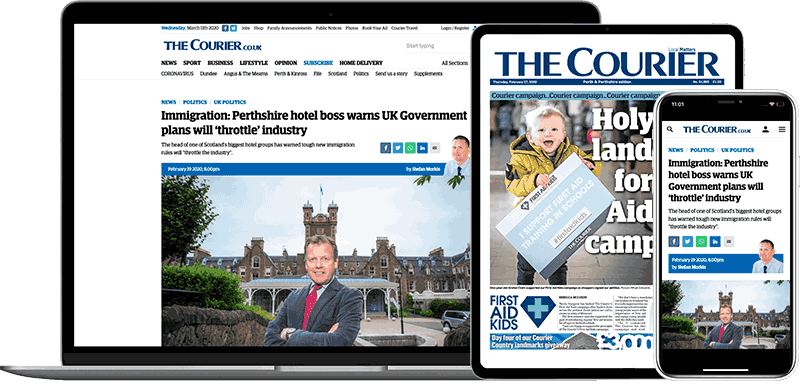 Help support quality local journalism … become a digital subscriber to The Courier
For as little as £5.99 a month you can access all of our content, including Premium articles.
Subscribe