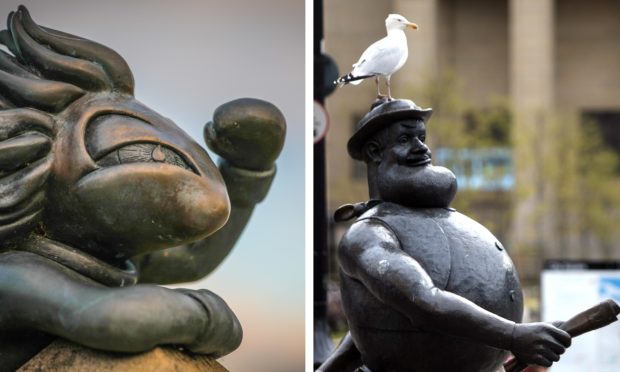 From cartoon characters to cars that absorb pollutants, dozens of pieces of public art in Dundee have been added to a massive online database.
Charity Art UK received a £2.8 million grant from the National Lottery Heritage Fund to help create a  database of all public sculptures in the UK.
The website went live in February and dozens of sculptures from in and around Dundee have been added to it.
They include some of the city's best-known and best-loved works of art including the Desperate Dan statue in the High Street, the penguins outside the City Churches and the Lemming statues, inspired by the video game, on Perth Road.
They also detail some hidden gems, less well-known to the public.
These include an environmentally-friendly statue of a car under tarpaulin that actually absorbs pollutants from the air and Keith Donnelly's ceramic panels outside 71 Brewing on Bellfield Street.
Dundee University museums services curator Matthew Jarron has also written brief histories of some of the city's most notable sculptures.
These include the statue of jute magnate David Baxter, which was the first statue of a famous Dundonian erected in the city and paid for by the people who worked in his mills.
Mr Jarron wrote: "The first statue of a notable Dundonian came following the gift of Baxter Park to the people of Dundee by linen magnate David Baxter and his sisters.
"Baxter's statue was made by one of Scotland's leading sculptors, John Steell, who had spent much of his childhood in Dundee. It was funded by public subscription, with much of the money coming from the thousands who worked in his mills."
One of the most unusual statues in Dundee is Catalyst, a 2008 statue of a car under tarpaulin outside Greenmarket car park by artists Matthew Dalziel and Louise Scullion.
Mr Jarron said: "This intriguing sculpture is made from a special catalytic compound which absorbs pollutants from cars and converts them into harmless nitrates which drain off into the soil.
"This was the first time the material had been used in the UK and the perfect example of art literally improving our lives."