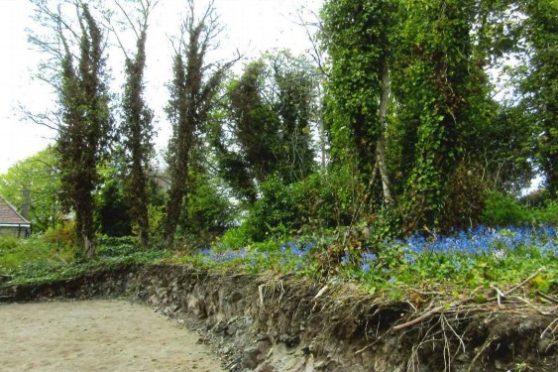 Council officers have been accused of behaving in an "irrational and disproportionate" manner after threatening to prosecute a Broughty Ferry couple for felling seven trees in their garden.
John and Barbara Hargreaves of Reres Road had obtained permission from Dundee City Council to fell 42 trees in the garden of their secluded luxury home, largely because they were diseased or in danger of toppling over.
Under the plans, 70 trees would be retained and another 80 planted.
However, the council slapped an enforcement notice on the couple, threatening prosecution after an additional seven trees were felled accidentally.
The Hargreaves had cleared a flat area of ground to create a private recreational space.
Dundee City Council demanded work on the garden, which is only overlooked by one other property, stop immediately.
They also want the Hargreaves to reverse work carried out to level the land, and to replant trees.
In the enforcement notice, Dundee City Council states: "The engineering works carried out within the said wooded area of garden ground are of a scale and form which has resulted in a detrimental impact on the character and setting of the dwelling house at 33 Reres Road and of the surrounding area."
The notice says the work fails to enhance the Reres Hill conservation area, has resulted in the loss of a number of mature trees and does not have suitable drainage.
They want the Hargreaves to reinstate the ground levels and remove shale material from around the boundary of the site within 90 days and to replant the trees in November.
Dr Hargreaves said: "All we wanted to do was to create a bit of garden for our kids to play in.
"This came as a total shock to use. It doesn't affect anybody else. You never know how these things will go but hopefully they will see sense."
The Hargreaves' planning consultant Alan Seath has appealed to the Scottish Government, accusing the council of behaving "irrationally."
He said the development's secluded location meant it would not impact the house or the conservation area and the Hargreaves were "exercising their rights in respect of peaceful enjoyment of their property".
Mr Seath said: "Instead of adopting a proportionate and rational approach it is submitted that the council has chosen an adversarial approach in a situation that does not merit the use of enforcement."
He said the Hargreaves would be willing to work with the council to find a solution that satisfies both parties, including planting more trees.
Mr Seath said: "The serving of an enforcement notice stopped activities on site.
"It is submitted that the council exercised its powers of enforcement in an irrational an disproportionate manner and should have encouraged a better outcome."
The case will now be assigned to a Scottish Government reporter who will decide whether to uphold or dismiss the enforcement notice.
A Dundee City Council spokesman said: "It would not be appropriate to comment on an ongoing appeal process."