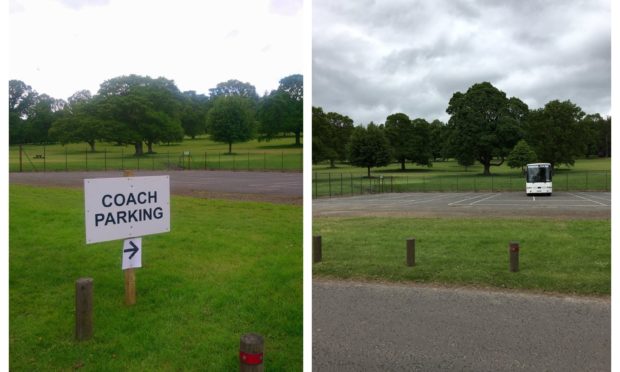 One of the most respected voices in British tennis has denounced council-run courts in Dundee being used as a car park.
The three courts at Camperdown Park are being used as a space for coaches to park while the main car park at Camperdown Wildlife Centre is upgraded.
Judy Murray, mother of Scottish tennis superstars Andy and Jamie, described the news as "awful" and called on the council to "get some activity" on them with Wimbledon beginning on July 1.
The tennis coach, who paid £10,000 last year for an Andy Murray-inspired penguin sculpture as part of fundraising efforts for Ninewells-based charity Maggie's Dundee, added that the courts should be made available for all during the summer.
Mrs Murray hit out in response to a photo posted on social media by sports broadcaster and Courier columnist Jim Spence, which showed a Fishers Tour bus parked on the facility.
"Awful," she said.
"Come on Dundee Council. Wimbledon and the summer holidays are coming. Get some activity on them."
Awful. Camperdown is Dundee's biggest park. Come on @DundeeCouncil @tennisscotland Wimbledon + the summer holidays are coming. Get some activity on them. If u need a workforce il help you build one through my @JudyMurrayFdn. @thecourieruk https://t.co/62Z6Ofrh5a

— judy murray (@JudyMurray) June 11, 2019
Jim said he "couldn't believe" his eyes when he cycled past and saw the court fencing torn down by the road side to make way for vehicles.
"I think it's utterly bizarre," he said.
"Surely there is somewhere else they could have put up a temporary space for coaches.
"Camperdown Park is the jewel in the crown of Dundee parks. It's the biggest in the city.
"To use it for this purpose just seems like rank bad planning.
"I know the council have done a lot of good with maintaining and refurbishing courts across the city but this is a strange one.
"It's just weeks before Wimbledon starts and we're stopping people from playing."
James Cosgrove, director of Fishers Tours, said: "Our direction from the council has been to use the tennis courts as a car park.
"There are signs up instructing coaches to park there. They've told us it's the safest way.
"The car park further down is being upgraded and there's no space down there.
"There can be up to 15 coaches a day parking at Camperdown at this time of year so it's very busy.
"We're just following instructions from the council."
A spokesperson for Dundee City Council said: "This is a temporary measure while the large car park at the south of Camperdown is resurfaced.
"Alternative provision for tennis players is available nearby at South Road and other tennis courts in the city including Baxter Park have recently been resurfaced."