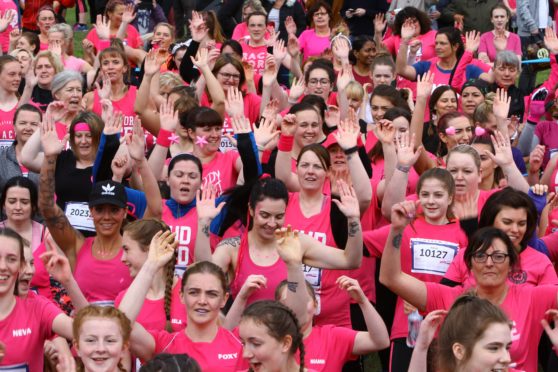 Nearly 2,000 runners turned out for the annual Race for Life in Dundee to help raise money for those fighting cancer.
Around 1,000 people descended on Camperdown Park on Sunday morning for the traditional 5K and 10K events, raising money for Cancer Research UK.
In the afternoon, 967 people took part in Pretty Muddy Dundee, a 5K mud-splattered obstacle course which included space hoppers, scramble nets and inflatable slides.
Lisa Adams, Cancer Research UK's spokeswoman in Scotland, said: "Our Race for Life events are fun, colourful, emotional and uplifting.
"They help people with cancer by raising money for research, including clinical trials which give patients across Scotland access to the latest treatments.
"You don't have to be sporty to take part. You don't need to train or compete against anyone else.
"All you need to do is go to the Race for Life website, pick an event, sign up and then have fun raising money in whatever way you like."
Police sergeant Nicola Robb, 38, was the first woman home in the Race for Life, completing the 5K in 22 minutes.
It was the 21st year that Nicola has taken part in Race for Life, after first signing up while at university after a close friend's sister died from the disease.
Many volunteers also gave their services at the event, including air cadets from Dundee's squadron 1232 and 2450 who cheered on participants and gave out medals at the finish line.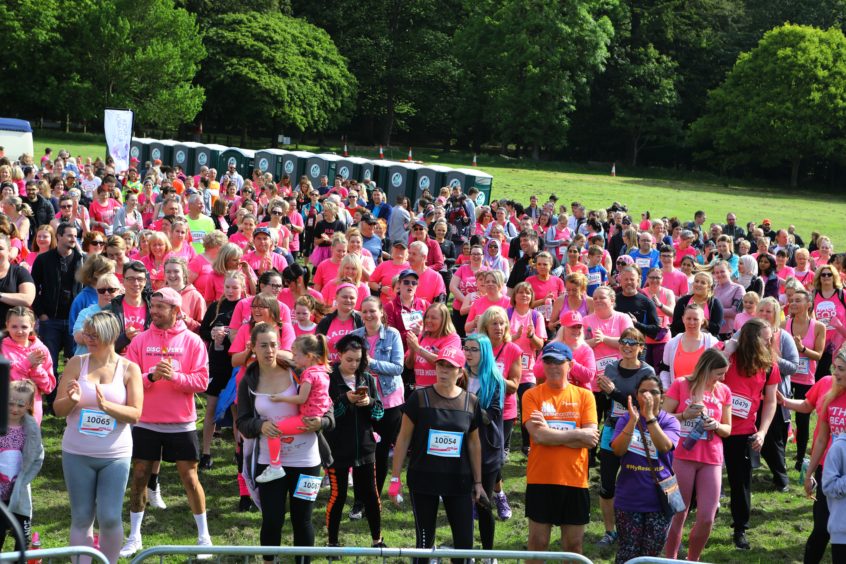 Every day, 88 people are diagnosed with cancer in Scotland and the number of people being diagnosed with cancer in the country has now reached around 32,000 people every year.
Cancer Research UK spent more than £2 million last year in Dundee on some of the UK's leading scientific and clinical research, party thanks to people's fundraising and donations.
Dundee is currently home to groundbreaking cancer research, with a focus on bowel, breast and skin cancers.
For more, see Monday's edition of The Courier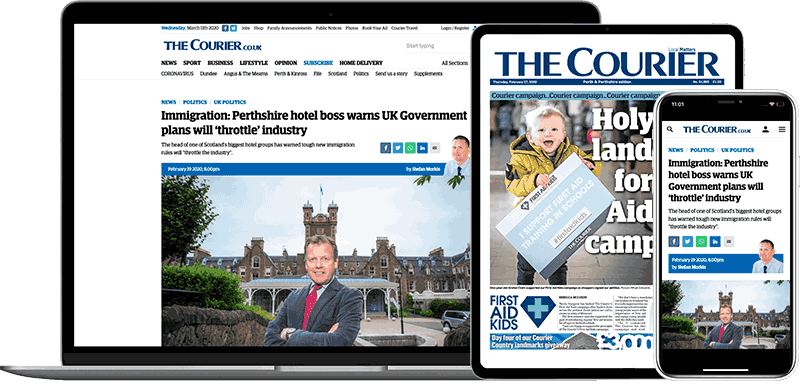 Help support quality local journalism … become a digital subscriber to The Courier
For as little as £5.99 a month you can access all of our content, including Premium articles.
Subscribe