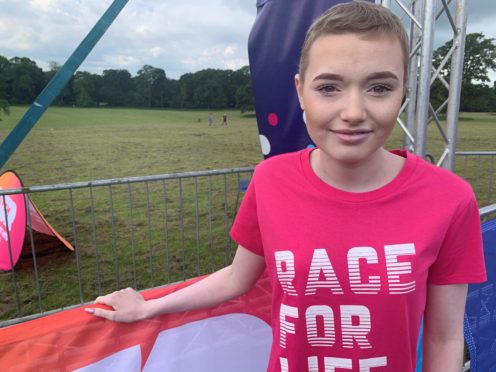 A Tayside schoolgirl who put her dreams of modelling on hold after being diagnosed with cancer was chosen to lead Race for Life Dundee.
Ellie Sutherland, 16, rang the bell to send 1,000 runners on the 5K and 10K courses at Camperdown Park to raise funds for Cancer Research UK.
Ellie endured everything from a collapsed lung to a fractured spine as well as losing her long curly red hair during four cycles of chemotherapy and 11 sessions of radiotherapy.
She was diagnosed with Hodgkin Lymphoma, a cancer that starts in white blood cells, on  October 25 2018.
Ellie of Abernethy, Perthshire, said: "It felt like my whole world fell apart when I got cancer.
"I hated missing out on school and socialising with friends because of cancer.
"It's been a really long few months but I can't thank the medical staff enough as they've saved my life."
Ellie treasures a book of photographs taken at a studio shoot in London in November 2017 before she got ill.
Ellie's mum Lynn said: "Ellie's modelling photographs from that shoot in London show teenage attitude.
"Ellie had gorgeous long red hair, wonderful skin, a beautiful smile and she looks as though she has the world at her feet.
"No one could have possibly guessed back then that these carefree teenage days would soon be shattered."
Ellie first visited the doctor in September 2018 after developing lumps on her neck, a persistent sore throat and battling exhaustion over the summer.
After a series of blood tests and scans, doctors  confirmed that Ellie had cancer in her neck, chest and spleen.
Mum Lynn said: "I remember that doctor's words so clearly.
"The doctor had to explain to Ellie that if she didn't have the treatment then she was going to die.
"That's a hard thing to hear from anyone when you're just a teenager. Ellie has had to grow up very quickly."
The chemotherapy worked and the results of a scan just after Christmas showed all the cancer had gone.
Lynn added: "Our eyes have been really opened about the number of children who get cancer and it's so important to us to do everything we can to raise awareness."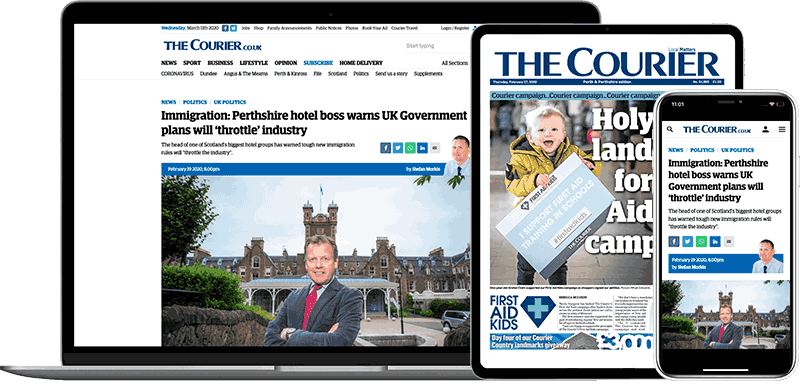 Help support quality local journalism … become a digital subscriber to The Courier
For as little as £5.99 a month you can access all of our content, including Premium articles.
Subscribe