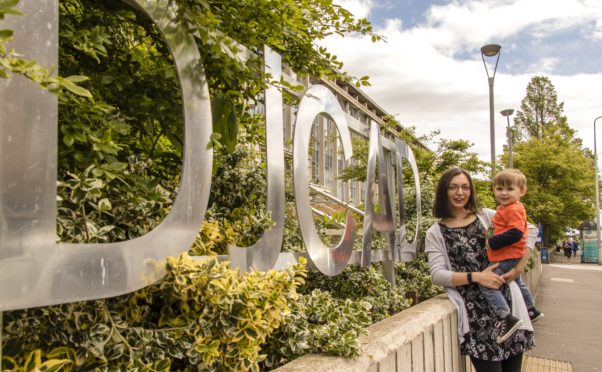 A Dundee University lecturer is one of thousands to graduate this week, doing so just 48 hours after her son.
Dr Yvonne Wedekind will collect her Masters in medical education in the Caird Hall on Friday.
It will be just two days after she has watched her son Nadeem Beg collect his first class MA in English and film.
A GP Clinical Teacher at Dundee Medical School, Dr Wedekind, said: "Graduation is always a happy occasion, but this year will be particularly special for me.
"Nadeem has worked incredibly hard and while it would have been nice to graduate together, he deserves to have all of the attention to himself on his big day.
"As well as celebrating with my son, what will also be different this time is that I will be graduating along with final-year medical students that I've taught."
Last year Dr Wedekind's other son Raheem graduated from Dundee University with a Masters in maths.
She is a doctor with NHS Tayside's out-of-hours service and has been teaching at the university's School of Medicine for six years.
A fellow student attending the graduation this week is Iliana Francia-Elliott who found out that she was pregnant with her second child part-way through her studies.
She will receive a first class honours degree in art and philosophy this week.
She was balancing her studies with her priorities with partner Jim and daughter Kayleigh, 8, when she found out that she was pregnant again.
She gave serious thought to dropping out of the university's Duncan of Jordanstone College of Art & Design.
Instead, having read an article by Pippa Bell who graduated in medicine after having two babies while a student, she decided to continue.
Iliana and Jim's son Danny was born in March 2017 following a difficult pregnancy that saw the mother hooked up to an IV drip.
She said: "I was delighted but I did worry about what it would mean for my studies.
"Pippa's story really gave me confidence that I could possibly do it. It often felt impossible but I've managed to get through somehow.
"Studying at art college had been a lifelong dream for me and I was determined not to let my chance pass by.
"Jim has been great and my tutors and colleagues have been amazing with the amount of support they have given me as well."
Buy The Courier this week for a full list of each day's Dundee University graduands