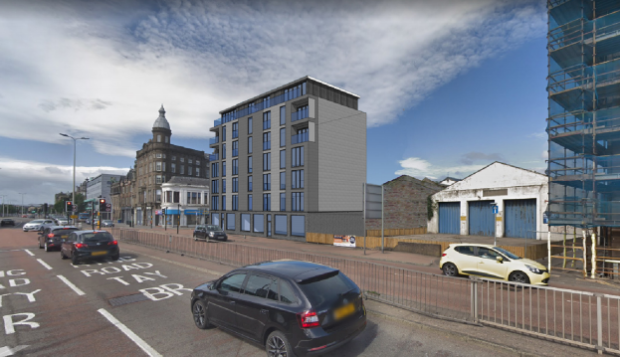 A former bus depot close to City Quay is to be transformed into a multi-million pound, six-storey apartment complex featuring three ground-floor shops.
The former Strathtay service depot, at the junction of Trades Lane and South Marketgait, will be transformed after an application was granted by city planners.
The proposals, submitted by A B Roger & Young Ltd architects in Brechin, aim to remove an "eyesore" building which has lain unused for a number of years.
It is hoped the complex, which sits next to DIY store Machine Mart, will also contribute to the ambitious £1 billion regeneration of the city's waterfront.
It will include three penthouse apartments set back from the main facade and taking up the top floor.
Two and three bedroom flats will fill the remaining space on storeys one to five.
Flats on floors four and five facing South Marketgait, towards Foxlake Dundee and Camperdown Street, will feature balconies, as will all those facing Trades Lane.
It is understood the site's most recent use was as an engineering supplies warehouse facility.
A design statement submitted by the the company said: "The proposal aims to deliver a high quality modern development within the vibrant context of Dundee City centre that establishes a positive relationship with the surrounding context and brings a new active use to the site which will remove an abandoned eyesore and continue with the regeneration of Dundee.
"The materials to be used on the new building include a stone on the ground floor retail level to match in with the listed buildings nearby finished with a mixed palette of grey metal sheeting to the residential floor above.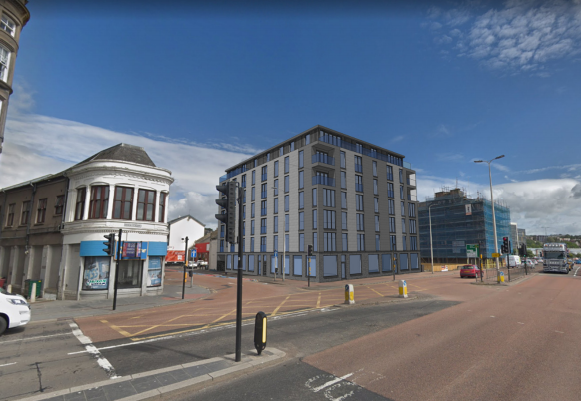 "The site lies on the corner of Trades Lane and South Marketgait and is surrounded by a mixture of commercial and residential premises and lies on the main traffic artery serving the Tay Road Bridge. "
With neighbouring Unicorn house in mind, as well as the DP&L building, the development needs to be brought to the road's edge to avoid negatively affecting the skyline.
It comes as another development at the northern end of Trades Lane opposite the Seagate Bus Station edges closer to completion.
The complex, which consists of 28 two-bedroom apartments, is expected to be completed in June 2020.