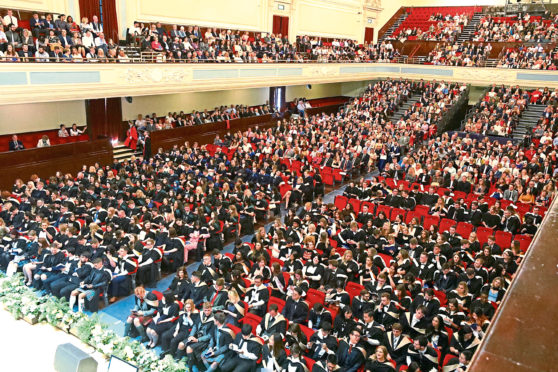 Going by the scenes in Dundee city centre last week, there must be a good living to be had in gown-making.
I'd never previously contemplated a future in faux-fur lined outerwear but there's obviously money to be made in accessorizing our brilliant university graduates.
It was Dundee University's moment in the sun (literally) last week and the city centre was suddenly abuzz with hundreds of the grand old institution's best and brightest.
St Andrew's will take over the graduation mantle this week, before the focus switches back to Abertay University.
So, plenty of time to cash-in with the Huband ACME graduation gown company.
Seriously though, the sight of so many talented young (and not so young) people being rewarded for their hard work is a heartwarming one.
University was a journey I began but never completed and, while the path I chose was the right one for me, it is a matter of personal regret that I will never have the opportunity to walk up in front of my peers and be conferred with a degree.
My academic shortcomings aside, I confess to having mixed emotions come graduation season.
There's the obvious delight and pride at the achievements of so many talented people in this great city.
But there's also the fear that graduation might well mark the end-point of these self-same people's association with Dundee.
For years I have worried that we are not doing enough as a region to retain the talent we are fostering in our educational institutions.
It is not their fault – the education sector is incredibly pro-active in engaging with its alumni.
But there is still a brain drain and any loss of talent is a blow to our wider aspirations as a city to develop a high-value, knowledge-based economy.
Collectively we must do all that we can to wrap our arms around the talent we have and ensure a strong proportion of the graduates who walked on to the dais at the Caird Hall can envisage making Dundee their permanent home and using their talents to create new wealth and opportunity .
The redevelopment of the waterfront, and the buzz around the V&A, has helped greatly towards that goal.
But there's a long road yet to travel before the sights and sounds of the Seagate are a serious rival to Edinburgh's Grassmarket or the Merchant City in Glasgow.
Get that balance right and this city will be on to a winner for years to come.
Get in touch with your local office at Dundee or send a letter to The Courier at letter@thecourier.co.uk