He is one of the most feared interrogators on television, relentlessly grilling candidates on BBC 1's The Apprentice.
For the past eight years Mike Soutar has examined business plans and conducted interviews on behalf of Lord Alan Sugar.
Now the publishing entrepreneur is bringing his scrutiny skills to this year's Courier Business Awards as a member of the judging panel.
As the clock ticks down to the June 30 deadline for entries to be submitted for this year's awards, Mr Soutar said he couldn't wait to get "under the skin" of businesses in Tayside and Fife.
He said: "In The Apprentice one of my jobs is to become familiar with lots of different business ideas in different marketplaces.
"I'm used to looking at businesses in sectors that I'm not familiar with as part of that and I guess that will be part of my job with the Courier Business Awards.
"And I promise not to be as brutal as I am with the interviewees with The Apprentice."
After a stellar career as a magazine editor, Mr Soutar revolutionised the magazine industry in Britain with free titles ShortList and Stylist.
He raised £4 million to start his company, eventually growing his business to 180 people with annual revenues of £25m before selling the titles in 2015.
Mr Soutar, who has been on Lord Sugar's interview panel on The Apprentice since 2011, encouraged businesses from all sectors and of all sizes to enter this year's Courier Business Awards.
He said: "It's easy and free to enter. The judges aren't looking for really complex business plans.
"It doesn't have to be a really lengthy entry or have lots of back-up – we want to know what makes your business special and different. That's where we'll get the winners from.
"I'm looking for people that are grabbing the market opportunity in front of them."
Held in association with MHA Henderson Loggie, the annual awards have grown to be one of the biggest nights on the Scottish business calendar.
Last year's black-tie event, which was hosted by Countdown star Rachel Riley and Scots comedian Fred MacAulay, was attended by more than 700 people.
Mr Soutar urged companies not to miss out on a chance to win one of the sought-after awards.
He said: "If you win one of these awards it will be an incredible boost to your business.
"As a region Tayside and Fife has more vibrancy and potential than any other area in the country.
"It's down to the quality of the people who have a 'can do' attitude, who are always looking for an opportunity. It's a bed of innovation and entrepreneurship.
"I will be attending the awards in October and it will be great to rub shoulders with all the businesses that are doing so well in Tayside and Fife."
Entry forms can be found at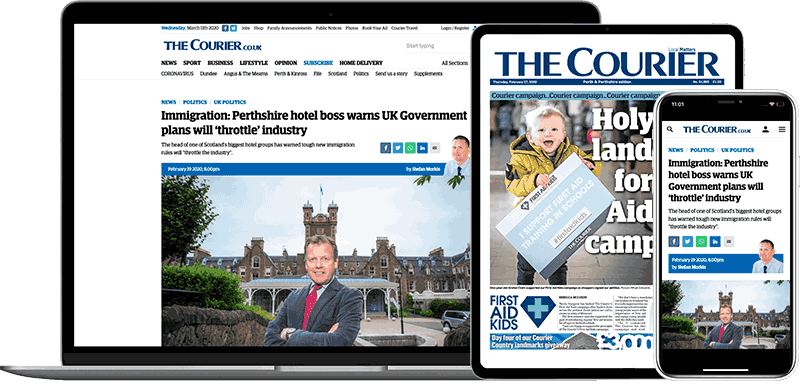 Help support quality local journalism … become a digital subscriber to The Courier
For as little as £5.99 a month you can access all of our content, including Premium articles.
Subscribe