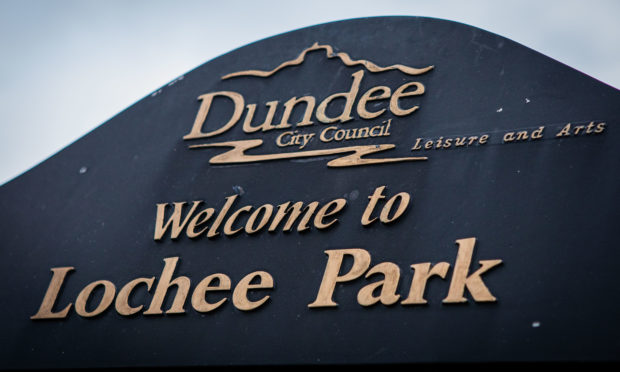 A Dundee mother has hit out at police who repeatedly failed to interview her after her son and a group of friends were approached by drug dealers in a city park.
Louise Cussick said her family had been "badly let down" by officers after seven youngsters, all around primary 7 age, were offered drugs and alcohol by two men in Lochee Park at around 5pm on Thursday.
The group had been playing on the football pitches when they were approached by the individuals, described by the boys as in their late-20s. They called their parents and police after becoming alarmed by their behaviour.
Mrs Cussick said officers failed to attend even after receiving at least two further phone calls from parents that evening, one around 40 minutes after they were first alerted by the youngsters, and later when her husband Mark arrived on the scene.
Police had still not spoken to the family or interviewed any of the children involved when approached by The Courier for comment on Monday afternoon, despite claims other children may have been targeted by the same pair.
A spokesman for the force said an appointment had now been made "to note full details" of the incident.
Mrs Cussick said: "My son plays up there all the time and they've never had a problem. This is quite a serious incident.
"My husband and a few other parents headed up to Lochee Park, by which time the men were gone. The boys had a really good description of them.
"The police were supposed to attend and then didn't, a parent called back and they said they would be there ASAP and still didn't appear.
"My husband then phoned and was told they weren't attending and someone would be in touch. They phoned on Friday morning to make an appointment to talk to the kids at 3.40pm but they still haven't been.
"We drill into kids that the police are there to help then this happens and teaches them that they're not. We feel really badly let down.
"I put out a warning on Facebook and another woman said her son had been approached as well by a man matching the same description but the police didn't show up then either."
It is understood Mrs Cussick was promised an officer would be in touch after reaching out to a local councillor for help but has still not heard back from the force.
A spokesman for Police Scotland said: "We are aware of the incident, and an appointment has been made to note full details.
"Due to operational demand, we cannot respond to every call immediately, but where this has not been possible we will make every effort to make relevant arrangements with anyone who wishes to report something to us as soon as is reasonably possible."