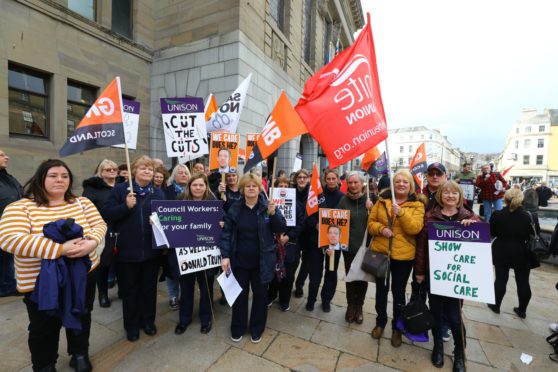 Dundee City Council has ditched a controversial policy in a bid to get unions back around the negotiating table.
The managing workforce change policy was introduced at this year's budget, but quickly came under fire
Unions had claimed the policy represented a "significant" change to workers' terms and conditions, although this has always been strongly denied by the local authority.
The policy reduced pay protection from three years to one for people who moved to different jobs.
And amid a backdrop of threats of industrial action, councillors agreed to drop the policy for the meantime.
Speaking at the policy and resources committee last night, Dundee Unite chairman Stuart Fairweather said he will discuss the council's decision with union representatives tomorrow to decide the next step.
He did agree that there is little immediate need for industrial action in light of the council's U-turn, however.
Union GMB will also discuss the development with their representatives tomorrow.
Speaking at the council meeting, Mr Fairweather said: "We want to get this rescinded so we can get back around the negotiating table.
"Our view is that the introduction of the policy is material change to the working conditions of our members.
"The people who work in these services that would be affected want to do the best jobs they can."
He told councillors that of the 70% of members that were balloted, 94% voted for industrial action.
"People are angry about this," he added.
"We have had care workers, homeless shelter workers and others coming up to us and asking when they will get a chance to have a ballot.
"There has been an increasing number of people taking time off
with stress since this policy was put through."
Kevin Keenan, leader of the Dundee Labour group, said: "I don't want to see families lose money and this (dropping the policy) gets us to a better place."
The managing workforce change policy also altered regulations so employees seeking flexible retirement must retire fully within three years.
Most controversially, it also said the council would only consider compulsory redundancies as a "last resort".
Unions alleged this reversed a long-held policy against compulsory redundancies within the local authority, although there was some disagreement between councillors as to whether this was the case or not.
Council leader John Alexander had claimed the council never had an official "no compulsory redundancy" policy, but this was rebutted by several councillors.