Rugby legend and Motor Neurone Disease (MND) awareness campaigner Doddie Weir visited Dundee to see an Oor Wullie statue created in his honour.
The 48-year-old, who suffers from MND, signed the Oor Doddie statue at swimming pool Olympia yesterday.
It was designed by Kingspark art teacher Graham Farquhar as a tribute to Weir, who played as a lock and made 61 international appearances for Scotland.
The statue is part of the recently-launched Scotland-wide Big Bucket Trail, which follows the success of the first three years ago in Dundee.
All the individually-designed Oor Wullies will be auctioned off, with the proceeds going to Scotland's children's hospital charities.
Weir, who like his statue was wearing a blue and yellow tartan he previously helped design as part of his MND fundraising efforts, said: "The trail is an amazing concept.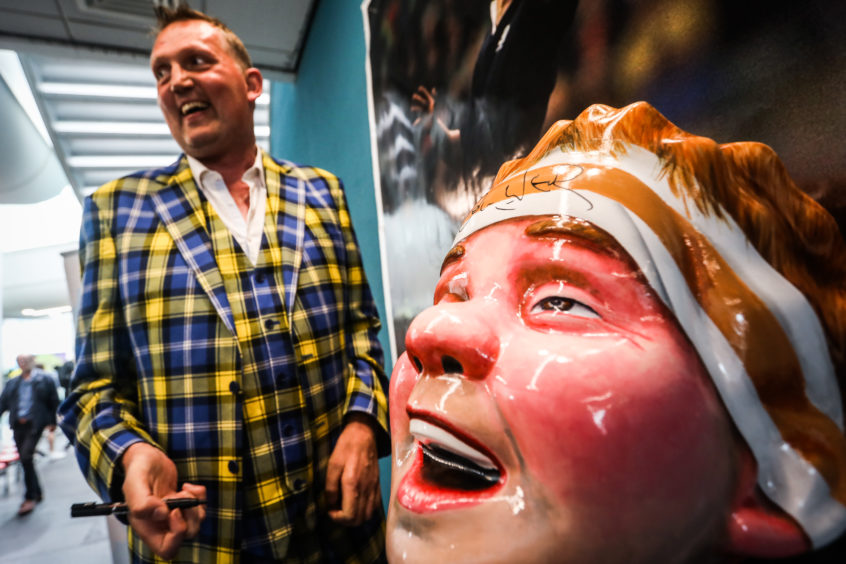 "It's a great honour to be involved in something like this.
"Kids are the future. They're the ones that need looked after.
"If I can do a little bit to make a big difference then it's a very good day."
Jings, crivens, help ma boab – it's Oor Wullie's BIG Bucket Trail!
Since announcing in 2017 he had been diagnosed with the incurable disease, Weir has raised millions through his foundation to provide grants for sufferers and fund research.
Most recently, he has called for Scots with the disease to be given disabled parking badges to help them live a "dignified and as full a life as possible".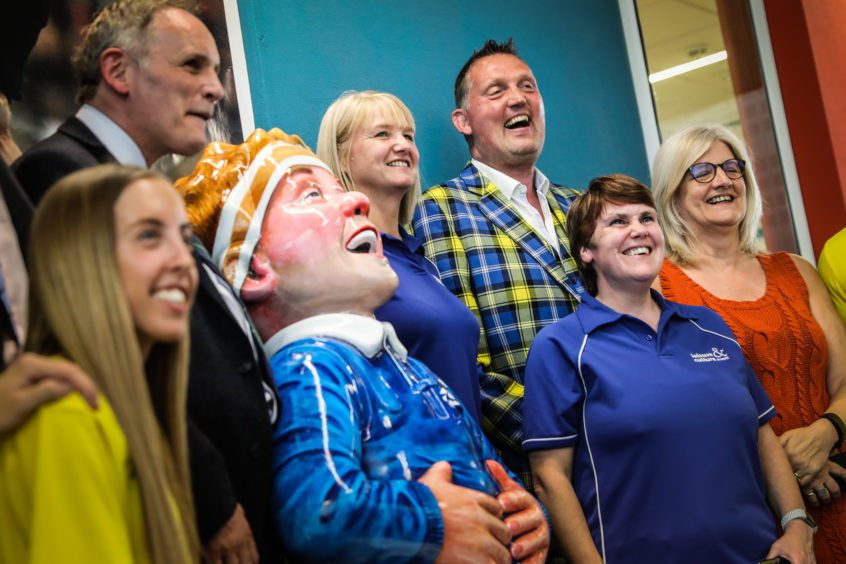 On his condition, he added: "We're trying to find a cure because there's nothing out there.
"In the last 18 months we have paid over £2.5 million into research already.
"I like the slogan behind this trail which is 'for every child, laughter is the best medicine'.
Oor Wullie's Big Bucket Trail: View the map which leads you to every sculpture in Scotland
"That's a good stance because there's nothing there for my medicine so the best medicine I have is positive thinking and that links into laughter.
"If you can smile and laugh and you think strongly and stay strong then you're on the right track.
"For me, there's a few aches and pains on the arms but I'm very fortunate to be here.
"There's no cure for MND. The average life expectancy is between one and three years and I'm two and a half years into being diagnosed so I'm probably one of the lucky ones.
"Nobody knows how long you will live for or what quality of life you'll have.
"But I'm still here, I'm still smiling and I'm having a bit of fun and games. That's really what life is all about.
"More importantly, being here and being able to help children who are not that well gives me a bit of a life as well."