With the 50th anniversary of the Apollo 11 moon landings on the horizon, Michael Alexander explores how Dundee is benefiting from growing opportunities in the space industry and hears why a former NASA astronaut believes Scottish children have what it takes to be amongst the next generation of space engineers.
For more than 100 years, Dundee was at the forefront of Scotland's shipbuilding industry which helped open up transport and communication links around the world.
But now in the 21st century, the city is helping pioneer new horizons beyond the confines of Earth through it's contribution to Scotland's growing space industry.
There are now several companies based in the city directly involved in developing technology for the sector.
And with the Scottish Government predicting that the space industry could be worth £4 billion to the Scottish economy by 2030, it's a trend that continues to reach skyward.
One company at the forefront of the growing opportunities is STAR-Dundee – Scotland's first space company and a world-leading provider of spacecraft on-board data handling network technology for the aerospace industry.
The company, which was a spin-off from a PhD project at the Dundee University School of Computing, is the global leading developer and supporter of SpaceWire technology – a computer network used to connect elements like sensors or telescopes on board spacecraft.
Equipment now being used by the National Aeronautics and Space Administration (NASA), European Space Agency (ESA) and Japan Aerospace Exploration Agency (JAXA) for communications on board spacecraft was conceived in Dundee, as was PANGU – the planet and asteroid simulation tool used by ESA to help design navigation systems for future planetary landers.
STAR-Dundee chief executive Stuart Mills, 43, was into Star Wars and had "unachievable life goals" to be an astronaut or a footballer whilst a pupil at the city's Douglas and Powrie primary schools.
But it was after the former Craigie High School pupil graduated from Dundee University in 1998 with a first class honours degree in computer science that the opportunity arose in 2000 to do a PhD in spacecraft systems under the guidance of academic-entrepreneur and STAR-Dundee founder Professor Steve Parkes.
The Dundee University professor was developing SpaceWire on behalf of the ESA which, for the first time, allowed different space agencies to easily work together using the same equipment interface and crucially, reducing costs.
Today, STAR-Dundee, based on the Nethergate, is an employee-owned company with 24 staff (including three in Barcelona) with Dundee-designed SpaceWire used on hundreds of spacecraft including the ESA Rosetta mission which landed on a comet, the joint ESA/JAXA BepiColombo seven-year 48-million-mile mission to Mercury and, closer to home, on the ESA Sentinel 3 mission to measure environment and climate change on Earth.
"I think Scottish space is a rapidly growing industry," said Stuart, who believes supply-chain benefits will emerge when Scotland develops its first spaceport in Sutherland in the early 2020s, with the commercial space sector also opening up new opportunities.
"In Scotland Clydespace are the most famous but there's organisations like our own in Dundee and others like Bright Ascension, who do software for on-board spacecraft and WL Gore who have just opened their Space Innovation Centre at Dundee Technology Park."
Stuart believes there's an element of coincidence that Dundee has so many space companies, and, as Dundee taxi drivers often tell him, most people are oblivious.
But on the other hand he puts a lot of the success down to the city's "two very good universities" and "clever people doing clever things", including Dundee University's Space Technology Centre.
While the sector was dealt a blow recently when it was announced the Dundee Satellite Receiving Station (DSRA) based at Dundee University was losing its public funding, STAR-Dundee is currently working on SpaceFibre – the next generation spacecraft on-board data-link and network technology – and hopes to be involved in future projects, including NASA's recent announcement to return American astronauts to the lunar surface within the next five years "by any means necessary".
Overcoming that "incredible challenge" would mark the first crewed moon mission since the Apollo program ended nearly five decades ago.
Achieving that will rely on being able to use technology that has been tested before on other missions and building on those accomplishments within the industry's internationally collaborative environment.
But he also hopes a combination of that ambition, the 50th anniversary of the Apollo 11 manned moon landing on July 20, and the Scottish spaceport plan will help inspire a whole new generation of youngsters to pursue a career in science and technology.
"It's a shame it's taken so long to happen again," he said of NASA's planned 2024 lunar mission.
"It must have really inspired people to get involved in technology and space (back in the Apollo days). Trying to get to these places that seemed unimaginable.
"How they were able to do it with the technology they had 50 years ago is incredible. They pushed so many boundaries. Imagine what can be done now?"
Stuart said there had been a real problem getting engineers in Scotland when STAR-Dundee launched back in 2002.
However, since then there's been a "huge change in peoples' attitudes and understanding" when it comes to the opportunities in engineering.
Former NASA Space Shuttle pilot Lieutenant Colonel Duane 'Digger' Carey, who recently visited Fife, was the 410th human ever to enter space when he piloted Columbia on what was NASA's fourth Hubble Space Telescope servicing mission in March 2002.
The famous Apollo 17 'Blue Marble' photograph of the Earth, taken from the NASA spacecraft on December 7, 1972, when it was 29,000 kilometres (18,000 miles) from home, helped to inspire him to work towards being a space traveller and also ignited a strong environmental awareness in him which hasn't waned much to this day.
However, 50-years on from being a 12-year-old watching the Apollo 11 moon landing on TV in July 1969, the anniversary has also caused him to reflect on the significance of humans' ongoing quest to explore space.
And he is calling on Scottish children to "stick in" at school if they want to become part of the next generation of space engineers.
"I can now say that the night I spent watching the first two moonwalks unfold in grainy black and white, my six-week old sister on my knee, changed the trajectory of my entire life," Duane told The Courier in an exclusive interview from his home in the USA.
"After Neil and Buzz climbed back into their spindly moonship for a few – fitful, I'm sure – hours of well-earned sleep, I tucked little sis back into her crib and stepped outside to take a look.
"I still remember gazing at that fat crescent, figuring that, for communication reasons, the crew must be on the portion of the lit moon that was visible.
"At that moment, I felt anything was possible and that the future would be a wonderful place.
"An indescribable wave of optimism and hope washed over me. And, I very gradually began a voyage in my life that eventually led me to space."
Duane said that after several "dry spells" in human space exploration, he's recently began to feel as if humans are "beginning to turn the corner" largely due to dramatic developments in the commercial space sector.
More and more people and companies are beginning to realise there is big money to be made – and that spells jobs.
"In Scotland alone, the space sector could be worth £4 billion by 2030," he said. "Britain's first spaceport is due to become operational in Scotland by 2020.
"The Trump administration has announced that NASA will put human boots back on our moon by 2024 as part of the build-up to the first manned Mars mission.
"Government's role is becoming more exploration oriented, with private industry gradually taking over the role of routine space operations. I've been watching very closely for 50 years and can see that things are clearly starting to pop.
"And the part of the world that led mankind to and through the industrial revolution, Scotland, has a place at the table.
"Kids, work hard – it will be worth it! And parents, keep your children on track – the world will need those renowned Scottish engineers more urgently than ever before!"
It's an optimism shared by the UK Space Agency which says the UK's first spaceport due to be operational in Sutherland from the early 2020s could create 400 jobs across Scotland and contribute to further growth of the space sector with support from the UK government's industrial strategy.
Colin Baldwin, head of local growth strategy at the UK Space Agency, said the organisation has invested £31.5 million in grant funding to support small satellite launch from the proposed new facility and this has already helped attract investment and job opportunities from companies such as Orbex, who have opened their headquarters and rocket factory in Moray.
Scotland is already home to the headquarters of more than 80 space organisations -a rise of over 20% between 2014/15 and 2016/17 – with 18% of the total jobs in the UK space sector.
Much of this increase has been driven by inward investors, SMEs and start-ups.
However, the UK's space sector is forecast to be worth £40 billion by 2030 with the Scottish Government setting its sights on reaching £4bn, or 10% of the UK target by that time.
"The Scottish space sector has seen significant growth in income and jobs in recent years and there are exciting times ahead," Mr Baldwin told The Courier.
"As technology evolves and reduces the cost of access to space, there is an exciting opportunity for us to thrive in the new space age, with Scotland the best place in the UK to reach in-demand satellite orbits with vertically launched rockets.
"Low cost access to space is a key enabler of the UK space industry and will help companies pursue a potential £75bn of market opportunities identified in the industry-led Prosperity for Space Strategy."
Mr Baldwin said that because the UK Space Agency has always been commercially-driven, it was in a strong position to thrive in the 21st century.
The focus on the commercial uses of space services and data has fuelled the sector's impressive growth to date.
However, he said they must keep ahead of their competitors and the sector is actively targeting the next growth opportunities.
Mr Baldwin said that whatever happens with Brexit, the UK will remain one of the leading members of the European Space Agency, investing around £300 million every year and collaborating with other nations on international space projects.
Given the success of the International Space Station and plans to send humans back to the moon then Mars, he said this was a "really exciting time" for the space sector globally, with governments and companies working together to achieve the most ambitious goals.
"The UK is playing an important role through our membership of ESA to be part of the Gateway – a space station orbiting the moon – and science exploration of the moon," he added.
"In addition, we are supporting industry to develop a commercial communication service at the moon which will eventually enable 24/7 communications with lunar infrastructure."
The Courier told recently how WL Gore & Associates, which developed the ultra-durable insulated wires used in space exploration, including NASA's Apollo 11 mission in 1969, officially opened its Gore Space Centre of Excellence in Dundee.
Considered by some to be the city's best kept secret, the organisation was the first to spring up in Dundee's new Technology Park in 1986, having been opened by the Queen.
The world-renowned company has a long and remarkable association with space exploration having developed wires made from Polytetrafluoroethylene (PTFE) and copper for use in some of the harshest conditions known to man.
The wires, which are assembled in its Dundee building are still used by NASA but are also used in the defence industry by the Royal Navy and in aerospace, by Boeing and Airbus.
The material was used in the 2006 New Horizons probe (the first spacecraft to reach Pluto) and Mars rover missions.
The new Centre of Excellence will allow the company to further explore space technology, such as radiation resistance.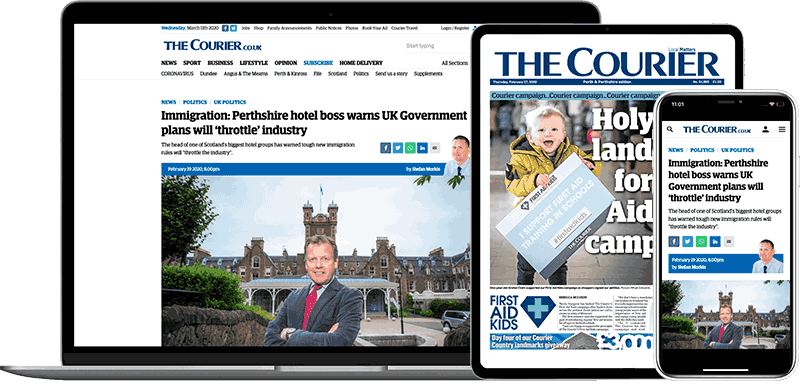 Help support quality local journalism … become a digital subscriber to The Courier
For as little as £5.99 a month you can access all of our content, including Premium articles.
Subscribe