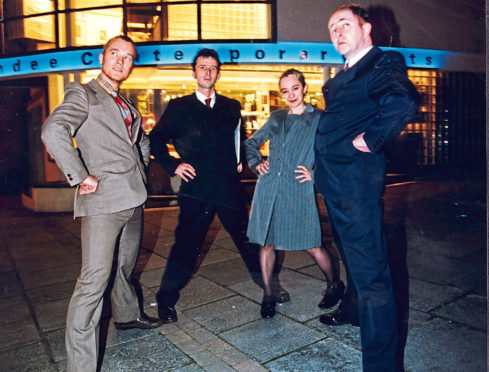 Synchronicity is either a useful term to describe meaningful coincidences, where two things are related despite there being no causal connection between them, or a load of pseudo-mystical codswallop.
While I've no wish to denigrate the work of Carl Jung, the psychologist who first put forward the idea, I'm pretty certain the only meaning behind random coincidences are the ones we choose to imbue them with.
And yet, sometimes, coincidences do resonate more strongly than others.
Take, for example, the number 784.
For many Scots, the number will remind them of the 7:84 theatre group founded by John McGrath that first staged his play The Cheviot, the Stag and the Black, Black Oil.
The company, which was wound up over a decade ago, was almost as famous for its name as its productions. 7:84 was taken from The Economist in 1966 that said just 7% of the British population owned 84% of the country's wealth.
An even more depressing statistic using 784 emerged this week – the number of probable suicides in Scotland last year.
Suicide has nothing to do with theatre, of course, but the statistics released by NHS Scotland's Information Services Division this week also revealed the rate of suicides is two-thirds higher in Scotland's most-deprived areas.
Dundee, which has some of Scotland's poorest areas, has the highest suicide rate in Scotland.
In other words, the inequality that inspired John McGrath and others to form 7:84 back in 1971 still exists and is perhaps exacting a far greater toll than ever before.
Over the past 50 years, living standards and life expectancies have increased dramatically yet the suicide figures show there are still too many people who, in their worst moment, choose to abnegate their lives.
Reducing these grim statistics will be no easy task because suicides are never simple.
In most cases there are likely to be a number of factors at play that have led to the person involved choosing to take their own life.
Mental health issues, substance abuse, whether drugs or alcohol, feelings of hopelessness or having no way out of difficulties can also increase the risk of suicide.
Even knowing someone who has committed suicide, or reading about other incidents, can push people to take their own lives.
But just because it is a difficult problem is no excuse for inaction.
Not only are too many people dying because they take their own lives, there are even greater numbers of people who have to rebuild their own lives after losing a loved one in this way.
In the short-term we need to ensure there is support in place for people who ask for it and that we should always be prepared to treat those talking of suicide, or self-harming seriously.
Longer term, we need to find ways to reduce the poverty and vast inequalities that are all too apparent in Scottish society.
Those living in the most deprived areas of Scotland are more likely to drink to excess, take drugs and generally have poorer health than their more affluent peers.
That so many are left without hope altogether – that two people kill themselves every day – is a stark reminder of how successive governments have failed those most in need.
THE BUTLER DID IT
Over to the wild and wacky world of social media where a significant section of the populous has become rather upset over former royal butler Paul Burrell's ignorant comments about Scotland that were made on a television programme few people watch.
Burrell, who Google tells me also appeared on I'm A Celebrity Get Me Out of Here in addition to having once been Princess Di's servant, said Scotland has nothing but "oil and a monster in a lake".
Helpfully, The National newspaper even transcribed the interview so its readers could get properly worked up about it while a number of not-at-all-phoney accounts on Twitter said they were now in favour of Scottish independence as a result.
Now, I can get as needlessly outraged as the next person but are there really so many people out there who actually care what Burrell thinks?
About anything?
Had he, for example, come out in favour of Scottish independence would he have become the new poster boy for the SNP and indyref 2? I think not.
Nevertheless, his comments provoked much annoyance among those who spend their days looking to be annoyed and helped get a bit more publicity for the show he was appearing on.
Everyone's a winner!
TIME TO BUCK THE TREND
Former Buckhaven High School pupil and one-time winner of The Courier's debating competition, Ruth Davidson has been the secret X-Factor in the race to become the new Conservative leader and, sadly, inevitably, the country's prime minister.
Put simply, everyone she backs loses.
First the Scottish Conservative leader backed Sajid Javid, only to see him voted out early on.
She then switched allegiances to Michael Gove, a kiss of death that saw him knocked out of the running shortly after.
Now with just two candidates remaining she has plumped for Jeremy Hunt on the admittedly hard-to-argue with grounds that he is not Boris Johnson.
Let's hope she breaks the losing habit soon.