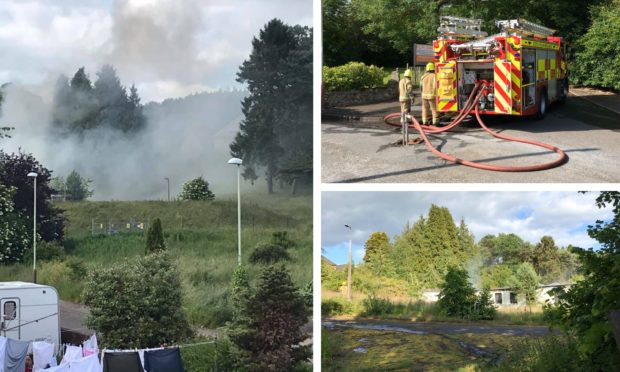 A group of "three or four" male youths were seen near Strathmartine Hospital before a large fire took hold of the derelict building yesterday.
Police are appealing for witnesses who may have seen the youths, but officers do not currently have further descriptions.
Officers have also asked that parents check if their children's clothes smell of smoke, fuel or chemicals.
Roads were closed as nine fire appliances dealt with the wilful fireraising yesterday evening.
It is the latest in a spate of fires in the former hospital.
A police spokesman said: "Anyone who starts a fire in an abandoned building is risking lives.
"Not just their own, but they are risking the lives of the emergency services who have to deal with the fire, and also members of the public elsewhere in Angus and Dundee who may need held from fire service, ambulance or police but cannot receive it as resources are unavailable due to dealing with the fire.
"We would like to ask anyone with information regarding this latest incident to contact us. We would also like to ask parents, particularly those living nearby or in northern parts of Dundee such as Kirkton, Craigowl and St Mary's, to check if their children have come home with clothes smelling of smoke, fuel or chemicals."