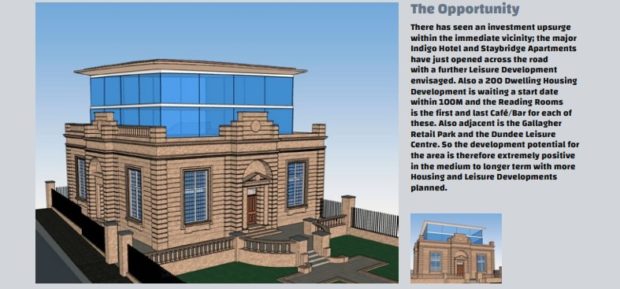 Former Dundee nightclub The Reading Rooms is being marketed for lease.
The nightclub closed its doors for the last time in June with managers Grant and Jim Grieves claiming they had been "wrongfully forced" from the Blackscroft building that had been the Reading Rooms' home for 17 years.
It had been forced to close temporarily in December last year due to concerns about drug-taking and anti-social behaviour of club-goers.
However, many regulars said they believed the club was being targeted by the authorities because of efforts to gentrify the Blackscroft area.
More than 7,000 people signed a petition to save the club before it was taken down at the behest of the club, who installed new management after concerns were first raised about the club.
The venue is now being marketed by J&E Shepherd, who are leaning heavily on the success of The Reading Rooms in their brochure for the building, which they advertise as a nightclub with "casual dining/cafe bar potential".
It states: "The Reading Rooms over the past 15 years has built a stellar reputation amongst the cognoscenti of the underground music scene, not only in the UK but Europe and as far away as Japan.
"Fronted by the Grieve Brothers (Jim and Grant) they've focused on accentuating and reinforcing the quality of the music played at what is an amazing venue both architecturally and for acoustics.
"However plans to invest to upscale the venue by the brothers Grieve have faltered and there is now an option for an operator to develop the added value service offerings that would allow the Reading Rooms to continue as is but also develop the revenue streams identified."
The brochure also states the venue requires investment to fund internal and external upgrades, including the creation of a roof extension.
It states: "This investment would see the extensive garden area refurbished to include an integral external kitchen set up, supported by a prep area, which will make use of previously redundant library book storage area.
"When completed it will be the only authentic garden space in the city centre. And will then allow the Reading Rooms to cater for its clients who now don't always go out on  nights but do at weekends and they can then still hear the music they want to compared to standard commercial cheesy tunes, one hears elsewhere."
It also states the creation of a cafe/bar would serve the nearby  Indigo Hotel and Staybridge Apartments which opened last year, as well as new housing proposed for the area.
The Grieves have vowed to re-open a nightclub in Dundee once they find suitable alternative premises in the city.