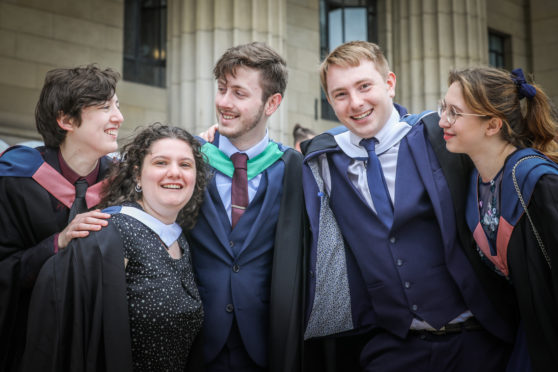 Hundreds of students joined proud family members and friends at the Caird Hall to receive degrees at Abertay University's Summer Graduation ceremonies.
More than 600 graduates from four academic schools – Design and Informatics, Social and Health Sciences, Dundee Business School and Science, Engineering and Technology – toasted their success at the annual event.
Scots language advocate Matthew Fitt, ScotlandIS chief executive Polly Purvis, psychology professor Bruce Hood and public servant Eddie Frizzell all received honorary degrees from the university.
Matthew Fitt has translated several well-known books into Scots and is also an official translator for the Scottish Parliament.
Polly Purvis has been chief executive of digital technology industry body ScotlandIS for six years, while Bruce Hood is a former president of the psychology section of the British Science Association.
Eddie Frizzell, who has held a number of high-profile roles including chief executive of the Scottish Prison Service and head of the Scottish Executive's transport and lifelong learning department, was chair of Abertay University's Court from 2013 until 2018.
Ethical hacking student and fashion model Sam Latronico was also among those to pick up a degree at the Thursday morning ceremony and was joined by his mother Matilda, who was diagnosed with ovarian cancer at the start of this year.
Earlier this week, the pair released a powerful online video in a bid to raise awareness of the illness and the effects of treatment.
Speaking outside the Caird Hall, Ms Latronico said: "I'm absolutely over the moon. I'm so lucky, so proud and so inspired by Sam.
"Sitting in chemo with me, doing his work while I was having chemo, it's just so inspirational that he still managed to pass with great grades. I'm a very, very proud mum."
Also picking up a certificate was James Connell, who received a Bachelor of Arts in Marketing and Business on behalf of his son Jack Connell-Burns.
Former Madras College pupil Jack, originally from St Andrews, died in October.
Thursday's graduations came as Abertay University recorded the biggest Scottish climb in this year's National Student Survey.
The 2019 rankings now place Abertay 4th in Scotland for student satisfaction, with more than 87% of final year students responding positively about their overall experience –  a jump of almost 9% from last year.
Abertay also scored highest of all Scottish modern universities in the categories of teaching, academic support, organisation and management, learning community, student union and student voice, and improved its position in almost every other area.
Principal professor Nigel Seaton said: "I am very pleased to see that the university has done so well in this year's National Student Survey, and that so many of our students have enjoyed their time at Abertay.
"The very positive views expressed by our students are a testament to the hard work and commitment of Abertay staff in teaching and in supporting our students."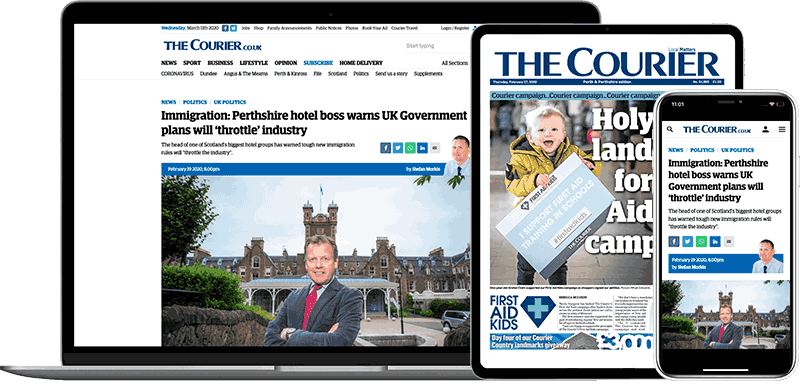 Help support quality local journalism … become a digital subscriber to The Courier
For as little as £5.99 a month you can access all of our content, including Premium articles.
Subscribe