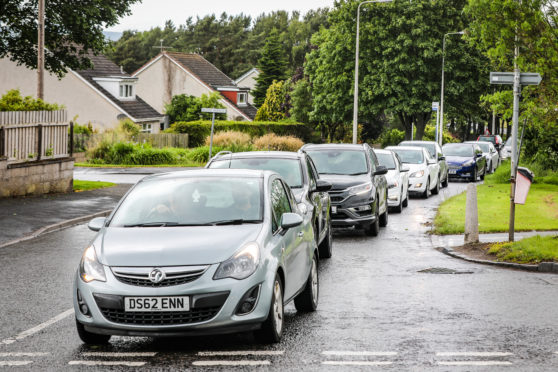 Dundee Civic Trust has said proposals to build more than 1,000 new homes on the outskirts of Broughty Ferry could cripple the roads network.
Developers Kirkwood Homes is building 150 new family homes at its Balgillo Heights development at Linlathen, with permission now being sought for a further 100 properties at the site.
However, in a public presentation, the developer has revealed it has its eyes on land east of the site towards Balmossie Brae — and believes it could support hundreds of new homes.
The firm has stressed the proposals are still just part of a "draft masterplan" but if they come to fruition around 710 properties could be constructed on land behind the current Clearwater View development.
The proposals also include a primary school and other community facilities.
Dundee Civic Trust board member Nick Day said the watchdog would be writing to Dundee City Council urging it not to allow any development of that scale on the land.
He said developers should be looking to build on brownfield sites closer to the city centre.
Mr Day said: "These houses would be in an area entirely car dependent, which would compound the problem of traffic on Arbroath Road.
"It would also put more pressure on schools and GP services.
"If you live north of Arbroath Road you can't get into GPs in the Ferry and in the mornings the pressures on the road going across Arbroath Road to Forthill and Barnhill primary schools is immense."
Mr Day said problems would be exacerbated if proposals for another development on the other side of Balmossie Brae go ahead.
"Our expectation is that would be another 300 to 400 homes as it is an 18 hectare site," said Mr Day.
"A lot of people who would move into those houses would be working in Dundee and travelling in by car every day."
Ferry Liberal Democrat councillor Craig Duncan has previously raised concerns about the pressure new homes north of Arbroath Road are putting on roads and services in the area.
He said he was concerned about the prospective scale of developments that could be built in the future.
Allan Rae, land director with Kirkwood Homes, said the firm was pleased to be bringing forward proposals for the second phase of its Balgillo Heights development.
He said: "Kirkwood Homes will continue to invest in the Dundee area and we look forward to playing a role in the city's ambitious future growth, with our initial studies indicating that the area to the north of the Arbroath Road may have capacity for further housing and new community facilities.
"We look forward to working closely with Dundee City Council and key stakeholders to realise this long-term and exciting ambition."