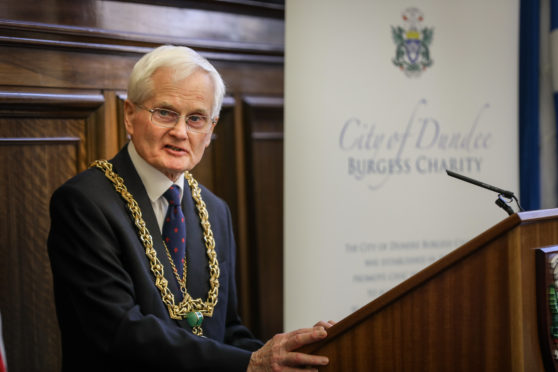 Dundee City Council has been criticised for using its Common Good Fund to pay for a £5,500 portrait of Lord Provost Ian Borthwick.
Portraits of all previous lords provost hang on the walls of Dundee City Chambers, which is open to the public.
A portrait of Mr Borthwick's predecessor as lord provost, Bob Duncan, cost £3,000 and this cost was met, according to online publication The Ferret, from the corporate services budget.
But the Common Good Fund was used to pay for Mr Borthwick's portrait.
Around £100,000 is made available each year from the fund to help projects that support "the common good".
Projects to have received money from the fund include the Unicorn, which was given £15,000 for planning and capacity building.
In previous years money has been spent on things such as harpsichord repairs and £5,000 to help pay for the installation of five new plaques at Discovery Walk in Slessor Gardens.
The GMB trade union said Dundee City Council had "raided" the fund to pay for the portrait.
Representative Helen Meldrum claimed the portrait is "insulting to the people of Dundee".
She added: "It shows a remarkable lack of self-awareness on the part of our representatives and council officials."
A Dundee City Council spokesman said: "In Dundee, the lord provost is the civic head of the city and each of the former city council lord provosts' portraits are on display in the City Chambers and can be seen by the public who visit the chambers.
"The previous lord provost's portrait was commissioned in 2018, cost £3,000 and was funded from the corporate services department budget."
The value of the Common Good Fund stood at £3.55 million last year.
The spokesman added: "The Common Good Fund has investments in bond schemes which generate dividend income each year.
"These income streams from these bonds may fluctuate each year leading to either a surplus or deficit on the fund. Therefore because the dividend income is matched by expenditure each year then the total funds of the Common Good Fund do not always increase year on year.
"The projected income from each of these bonds is committed to payments via grants or contributions to various one-off applications each financial year."
Mr Borthwick is Scotland's longest serving councillor.
He became lord provost in 2017.