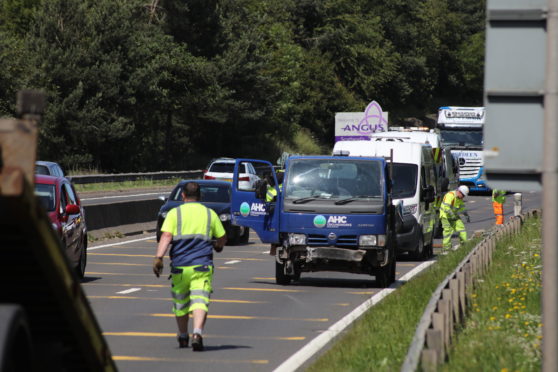 An afternoon of traffic chaos affecting thousands of motorists shows the urgent need for a Dundee bypass, it was claimed yesterday.
A southbound stretch of Forfar Road was shut for almost three hours on Monday after a van toppled just after noon.
The closures meant all lanes into the city were blocked and traffic was diverted through the village of Tealing in Angus for a large part of the afternoon.
The vehicle, a blue Nissan Cabstar, had to be turned upright using specialist machinery as it was blocking the road.
Police resorted to asking drivers to turn back up the A90 into Angus after it became clear the road would not reopen for hours.
Dundee Labour leader Kevin Keenan said the situation showed the Kingsway was no longer fit for purpose.
He said: "This kind of situation just shows the difficulties of not having a bypass outside the city.
"All the traffic from the north, whether it's going into the city or elsewhere, has to come down Forfar Road and on to the Kingsway.
"It's very bad at rush hour too.
"I think we need something else now. I don't know when that might happen but certainly we should be looking at the situation."
He added: "Having another route is something that is mooted every so often but there hasn't been firm discussions.
"You'd get rid of half the traffic around there if there was an alternative route.
"It's something that is mooted every so often but nothing concrete has been tabled."
One driver said she gave up and went home after she was stuck in traffic on the southbound carriageway of the A90 for almost two hours.
She said: "I was travelling to the office in Dundee just after 12.30pm.
"Traffic was at a standstill a mile or so north of Dundee and emergency vehicles were heading north, presumably to set up diversions.
"I sat there in the roasting heat, wondering what was happening, for a good 20 minutes.
"People started getting out of their cars and realised we weren't going anywhere for quite some time."
She said a lorry driver explained there had been an accident at the Claverhouse roundabout before police officers arrived on foot.
"They were telling drivers to reverse and head north – up the wrong side of the carriageway – and eventually come to diversions at either Murroes or Tealing but warned it could take a long time to get anywhere near Dundee," said the woman.
The closed section of the route stretched from the Struan Roundabout to Claverhouse Road.
A spokesperson for Police Scotland said the road was cleared by 3pm.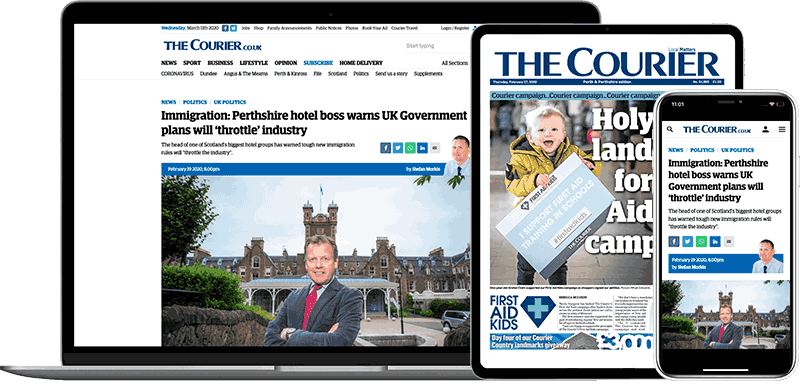 Help support quality local journalism … become a digital subscriber to The Courier
For as little as £5.99 a month you can access all of our content, including Premium articles.
Subscribe