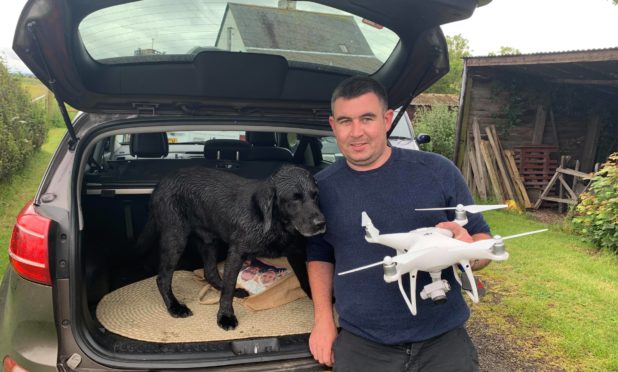 A drone pilot helped trace a missing black Labrador when it became lost during a walk.
Buster a 13-year-old family pet, was on a walk with his owner from Balmossie Farm, Broughty Ferry, on Monday when he went missing.
While out with John Reid and heading to the Murroes the dog vanished while heading through a field of barley.
His owner John scanned the 33-acre field of barley and whistled the missing retired gun dog, but failed to find to the Labrador.
He continued the search for the pet on Tuesday morning and John told the police and looked in local dog pounds.
The family also lodged a Facebook appeal to see if anyone had seen the missing animal in the Broughty Ferry area.
Dale Summerton, owner of Rising View Aerial Video & Photography, based in Dundee, stepped in to help when asked.
Using a drone he searched the field and surrounding wooded area to track down the missing animal.
John's wife Eila Reid said: "We were delighted to get him home. Black Labradors are known for raking about so we were glad to get him back.
"He has often run away when he is out and about and he used to pick up game when he was working.
"Dale was happy to offer his help to find Buster. He had gone into another field and there was a drop at the edge of it so he would not have been able to get out of it.
"Thankfully he was fine and bore no ill effects from his adventure and he is happy in the paddock now."
Although the drone search for the dog only lasted 15 minutes Dale had to recall the device to recharge its batteries before continuing the hunt.
He said: "I thought I had found him and that it was a dog on the screen, then I saw his tale wagging.
"I found him a lot quicker than I expected to find him as I thought it would be like hunting a needle in a haystack.
"We found him about 4pm on Tuesday, I was glad to help with the search.
"I expected him to be tired after his 30-hour ordeal, but he jumped up whenever he saw me."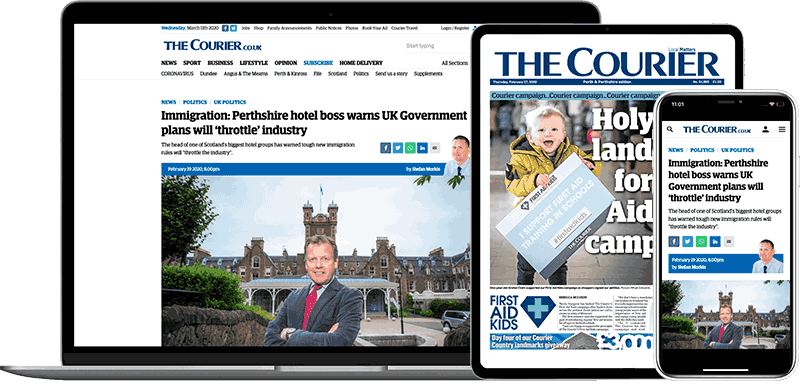 Help support quality local journalism … become a digital subscriber to The Courier
For as little as £5.99 a month you can access all of our content, including Premium articles.
Subscribe