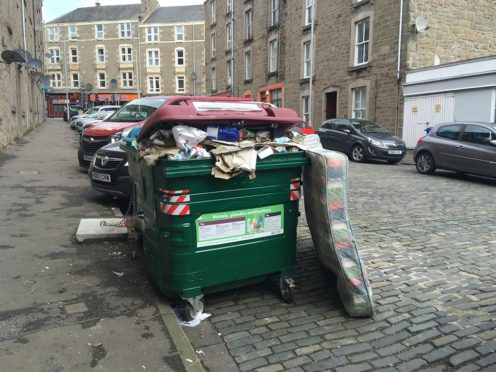 A Dundee pensioner is looking for answers after being told recycling on his street had been labelled as "toxic".
Brian Mara, 73, has made repeated calls to Dundee City Council after the blue and burgundy Eurobins on Blackness Street were not emptied for a several weeks.
Most of the recycling bins now have rubbish spilling out on to the ground, and people have started piling up boxes and other waste on the road by the side of the bins.
Mr Mara phoned the council two weeks ago to report that the recycling was building up. He was told someone would look into it.
However, when Mr Mara phoned again last week for an update, he was told a council worker had been out to look at them and declared them "toxic". They are yet to be emptied.
"I didn't clarify what they meant by that at the time as I didn't really think about it until after the call, but I wish that I had now," Mr Mara said.
"I'd like to know what they mean by that word exactly, and if it is deemed as toxic, then why hasn't anyone been out to empty them yet."
A council source said the word toxic isn't used in relation to recycling and it was more likely what was meant was "contaminated" — when too much of the wrong type of recycling is put into a bin. In these cases, the whole bin's contents have to go into general refuse.
However, Mr Mara insists toxic was the word used over the phone.
The black bins for general refuse have been getting emptied regularly. Mr Mara estimates the recycling bins have not been uplifted for about six weeks.
He added: "I know that sometimes the lorries can struggle to get down this road because it's really narrow when cars are parked on both sides.
"If that is the case, then I don't know why they don't at least empty the ones at the top of the street where it's easier to access.
"I have spoken to neighbours who'd like to know what's going with this as well.
"I've been walking to nearby streets to use their bins to make sure I'm recycling, but then the bins there are surely going to fill up quicker so that's a problem too."
A Dundee City Council spokesman said: "We are looking into this situation and will have the refuse uplifted as soon as possible."