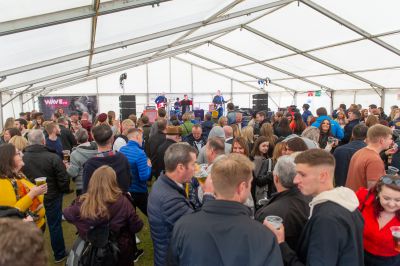 A renowned 1980s new wave band and one of the UK's top Queen tribute acts will top the bill at this year's Dundee Rotary Oktoberfest.
Sheffield group Heaven 17, whose single Temptation reached number 2 in the UK charts in 1982, are the headline performers for the final night of this year's festival at Slessor Gardens.
Organisers have pledged the event, which will run from September 26 to 28, will be the "biggest and best Oktoberfest yet" as they welcome the reformed group featuring original members Martyn Ware and Glenn Gregory.
Tribute act Magic Queen are expected to be a popular choice as they top the bill on Friday, with no fewer than 12 local bands providing support over the three nights and one afternoon.
Oktoberfest has become one of the biggest annual events in Dundee's entertainment calendar and this year, the ninth instalment, is expected to be a stellar celebration of beer, music and German food.
Last year, the festival moved from its original setting at Discovery Quay to a bigger Waterfront venue at Slessor Gardens but organisers have admitted the upscaling provided "considerable challenges".
The Dundee Rotarians have pledged a number of new measures this year to tackle the issues, including a bigger main marquee, a higher stage for better visibility, a section with tables and chairs on a first-come-first-serve basis and no VIP area.
There will also be a redesigned bar to serve customers more quickly and drinks and German barbecue food prices held at £4.
Robert Dunn, chairman of the Oktoberfest organising committee and a past president of Dundee Rotary Club, predicted this year's offering will be well received by local residents.
He said: "We again look forward to hosting this year's event at Slessor Gardens for what we believe will be a hugely successful and enjoyable festival."
Thursday night will again be a corporate evening with performances by groups Pretty Verdant, The Vintage Girls, Sound Machine and Jive Candy.
Friday will be the first of the general public nights with performances by Rock Bottom and the Messarounds before Magic Queen take to the stage at around 9pm.
Saturday afternoon will feature Fizzle Chimps, Captain Jack, Sonnet 65 and Interceptors. The evening session will open with Paper Tiger, to be followed by Miami Vice before Heaven 17 see out the festival.
Last year's event was hailed as a charity fundraising success and attracted more than 2,500 visitors, with the biggest crowd converging on the venue on the closing night for a performance by pop and indie rockers The Magic Numbers.
It raised in excess of £26,000 for good causes, including Dundee Stroke Exercise Club, Brae Riding, Insight Counselling, Friends of the Botanic Garden, Quilts & Co and transport for school and community group trips.
Tickets for Dundee Rotary Oktoberfest are on sale now at Dundee Box Office and Groucho's record store. Admission prices are £15 for the Thursday, £20 for the Friday and £25 for the Saturday.