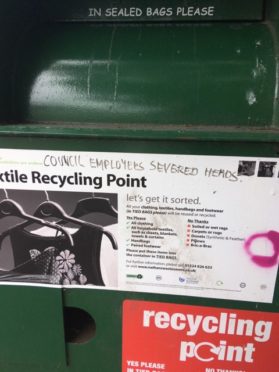 Sinister graffiti seemingly calling for the decapitation of council staff is "beyond belief", according to a trade union boss.
The message, which reads "council employees [sic] severed heads", has been scrawled above the instructions on a recycling bin at Roseangle Car Park in Dundee's West End.
The bins sit adjacent to a popular children's play park and across the road from the area's main park, Magdalen Green.
Bob McGregor, regional organiser for the Unite union, said the grim statement has shocked him.
He said: "We don't condone that behaviour, we totally condemn it.
"It's beyond belief really. I have never seen any messages like that before targeting employees, who are just out to do their job.
"I haven't really seen anything negative full stop about employees before to be honest. They are usually valued by the public.
"It's clearly targeted at the environmental workers for whatever reason. It's absolutely not acceptable."
The graffiti, written in marker pen, was spotted by a local resident at the weekend.
The man said he was left "bemused" after coming across the message on Sunday morning and said it was "hugely disappointing".
He said: "It's concerning to see language like that directing towards staff.
"There's just no need for it. All they are doing is earning a living, I don't understand it.
"It's quite a specific message too which is even more alarming.
"I'm sure it was meant as a bit of fun but it certainly wouldn't be fun to be an employee and come across that when you're working."
A Dundee City Council spokesperson said: "This type of graffiti is completely unacceptable. Everyone has the right to feel safe and secure in their work and in their community."
It comes just two weeks after one of the Howff's 200-year-old gravestones was desecrated with the message 'Satan'.
The headstone, visible from the Barrack Street entrance, was daubed with pink and blue chalk.
The gravestone was erected by merchant John Robertson in memory of a number of his children who died between 1797 and 1812.
The message, though it has mostly been removed, is still visible.
An iron gravestone on the other side of the burial ground was also targeted, with a cross drawn on it.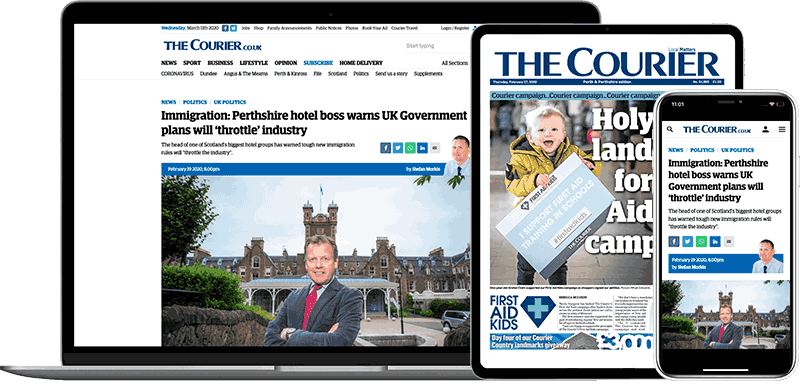 Help support quality local journalism … become a digital subscriber to The Courier
For as little as £5.99 a month you can access all of our content, including Premium articles.
Subscribe