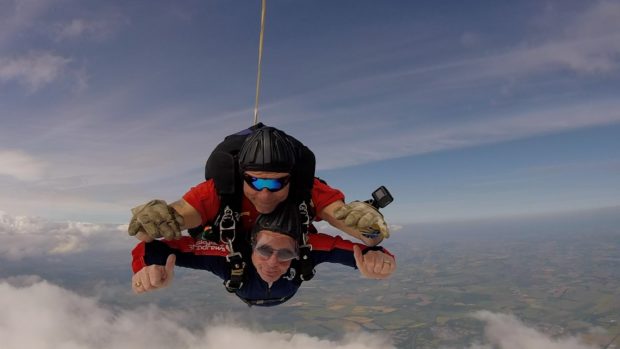 A 95-year-old D-Day legend has inspired a Dundee man to jump out of a plane to raise thousands of pounds for good causes.
Graham Letford, 62, decided to skydive for his annual charity challenge which he described as the best experience he's ever had.
Mr Letford is no stranger to wacky challenges after last year taking on a tri-cyclathon, rickshaw ride and a cyclathon to raise money for the Provincial Grand Lodge of Forfarshire charities and good causes fund.
He said: "The inspiration came about after watching a D-Day commemoration programme.
"There were to be veteran paratroopers on June 6 parachuting into Normandy and one the guys was Harry Read, who was 95.
"I thought that if a 95-year-old man can do it then I'll give it a go. It wasn't until I signed up to do it I thought 'what have I done?"
Harry Read parachuted into Normandy 75 years after he did so for D-Day.
He took part in a tandem jump with the Red Devils after a display of some 280 parachutists in Sannerville.
Mr Read was a signalman, part of the British Sixth Airborne Division, whose mission it was to jump in to German-occupied northern France, secure key bridges and destroy the Merville Gun Battery before the amphibious landings.
Mr Letford's seven-year-old daughter Catherine has also caught the fundraising bug.
When she was five she completed a six-mile Kiltwalk to raise £500 for Glenlaw House and last year, she completed the 11-mile event to raise £700 for Tayside Deaf Hub.
Next month she will again walk 11 miles for the children's ward at Ninewells and Mr Letford is hoping they can join forces for next year's venture.
Mr Letford said: "To date, approximately £3,000 has been raised with further donations from the Masonic Lodges and members still coming in and it is hoped to reach £5,000.
"All monies are being dispersed to local charities and good causes within the Tayside area.
"I must thank my fellow freemasons for once again digging deep and for their continued support to the previous cycling challenges.
"I must say it was the best experience I have ever had, dropping out a plane from 10,000 feet at 120 miles per hour – the cold air on your face, the adrenalin kicking in, the rush of air passing you, and when the parachute opened the uncanny and deathly silence I have never experienced before.
"Would I recommend it? Definitely.  Would I do it all again?  The jury's out on that one!
"As for my next challenge, I might make a phone call to Bear Grylls."